Behind The Desk: Mr. Nelson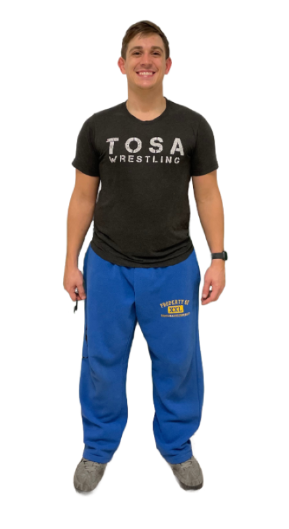 Do you feel welcome working and coaching in the Wauwatosa School District?
Yes, the team is very welcoming and I was lucky to have last year as an assistant coach so I already know and have relationships with some of the wrestlers on the team. I also grew up in the Wauwatosa School District and graduated from West in 2013 so it is a little strange to be back, but nice.
How do you think wrestling is different from other high school sports?
I think that wrestling isn't harder per say but requires a different kind of work. Compared to other sports the work you put in is genuine sweat, blood, and tears, I think more so than other sports. Wrestling also being an individual sport makes it different as everything that you need to do to succeed is required of only you, you have to put the work in your team can only help you, but you go out on the mat for a match with just what you know and are capable of. Also there is always the cliche saying that once you've wrestled everything else in life is easy, which i think to a certain degree is relatable. I think our sport gives the unique chance to build character on and off the mat, the lessons learned in our room translates not only to life outside of wrestling but to the workforce as well. I think going through the challenge and fire of wrestling builds extremely tough individuals.
In what ways do you think wrestling builds bonds between athletes?
I think that spending a lot of time working hard together builds connections between people. I also think that the wrestling community is very friendly and supportive, I have many people I'm still friends with after wrestling with them in either high school or college.
How do you think the sport of wrestling has changed your life?
Very much, I was quite chubby prior to wrestling and once I joined I went to state in middle school a few times and had a very successful career wrestling here for Tosa. I learned a lot of life lessons through wrestling and a good work ethic. Wrestling became a big part of my life right from the start and I have many bonds I have built with people through wrestling. I also wrestled in college and that gave me opportunities I otherwise wouldn't have had. I have also had times where I had been hired for a job just because the person interviewing me was also a wrestler, which is a bit unfair but also they knew the kind of work ethic I had.
What are your goals this season with the wrestling team?
I want the wrestlers to reach their own goals, and I hope to get them to those goals. The sport of wrestling is very much about what a wrestler puts into the sport and I hope to help them succeed with the correct techniques and a fun learning environment. Our sport is not only a team sport but an individual one and I enjoy working towards our athletes individual goals as well as reaching some new goals for our wrestling team as well.
How did you react when you were given the opportunity to become the head coach this year?
At first I was unsure how I would do as I wasn't sure as to how long I would be in Wisconsin. I also felt like I was a little young to be taking on the role of head coach, I was 26 at the time and 27 now. I've realized this is a great opportunity and I am very excited to work with the guys on the team this year. I have high hopes for this season so I made some changes and with my job as a Zoo Keeper and was able to stay long enough for at least this season of wrestling. I was also able to stay in Wisconsin longer as I work as a substitute teacher for the district, so that's nice. I will say I am very excited to move forward with this program and build on what the previous coaches (kent morin, corey bauer, aaron gudeyion, matt ostevich) have built, especially since I went through this exact program 10 years ago.
What do you think a wrestling coach can provide to a high school wrestler?
A wrestling coach can provide guidance in training but also guidance in life. Many of the things you learn in wrestling are applicable to real life and those lessons make success in other aspects of life more attainable. I want to be a person our athletes can rely on regardless of what they need and to help them out not only in the sport of wrestling, but in school, and in life as well. 
What does your career as a Zoo Keeper mean to you, and how does it maybe relate to wrestling?
I would have never built up the confidence to chase my dream of becoming a zookeeper if I had not pushed myself so hard in wrestling. I was able to do extremely challenging and scary things like work with crocodilians hands on and help train dangerous wildlife. I can honestly say my experience on large stages in wrestling helped me do shows with large crowds working closely with anywhere between 30 and 250 alligators in an enclosure while doing a show. It showed me how to work hard in a job that requires a lot of hard work, and showed me how to push through things that may have been difficult to deal with emotionally at the time. Wrestling has built me into the person I am today and I wouldn't change my experiences with the sport for the world.