Students Question Senior Homecoming Dress-Up Day, "Risky" Business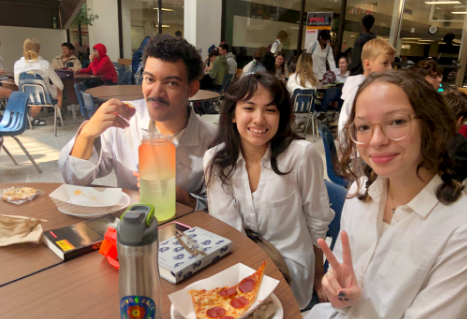 For the first day of 2022 Homecoming Spirit Week, the Senior class followed its long tradition of creating and following its own list of dress up days.  
On Monday, October 3rd, Seniors dressed as "Risky Business" day. The theme pays homage to the 1983 film and consists of an oversized white button up, underwear, and socks. However, the student body seems to be growing tired of the concept. 
"I don't think that it's really relevant anymore. I doubt most of the people who are dressed in Risky Business today have actually even seen the movie." said Senior Meghan Grimes.
Grimes is not alone. Other Seniors struggled with the concept and idea.
"I had to Google what it is. I don't know what that means. I googled the scene to find out what it is. I also don't really like this. it's very uncomfortable." said Senior Cole Powell.
Some even have alternative ideas for spirit days instead of the Risky Business.
"Instead of Risky Business, I would like to do a career day or like pick your future career day like dress as your future career, especially for Seniors. And that would be fun because, you know, it's thinking about what they're going to do after high school and it's a cool thing to do." said Senior Meghan Grimes.
The tradition also raises questions of possible sexism. 
"It's uncomfortable and a stupid tradition. Why would they let guys wear their boxers to school but not let girls wear sports bras in gym class?" said Senior Angelica Altoro.
Other Seniors believe the tradition has been around long enough.
"I feel like it's, it's very outdated since it's a very old movie. and a lot of the people that are participating in it don't know what's going on. It's not as fun anymore because no one really understands the joke." said Senior Lydia Cordova.
Despite the confusion and disinterest in the theme, many Seniors still wore the iconic white shirt, ray ban sunglasses and boxer shorts.  
"It's important to have school spirit." said Lydia Cordova.