Senior Spirit Day Tradition Continues During Homecoming Week 2022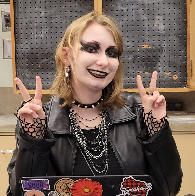 While the rest of the school was dressed as classic duos, the Senior class donned black lacy dresses and black skinny jeans. Goth day is a Tosa West Senior tradition during homecoming week that seems to come back every year, along with risky business. Many students enjoy the tradition of oversized button-downs and black lipstick and are always excited to see their return.
"Mainly, [I think] that it's just easy for everyone to do. Everyone has black clothes. Everyone has a white button down. It's also just fun," said Senior Sophia Zimmerman.
The ease and familiarity of the classic themes excite some while others are a bit bored by their overuse. "I think [risky business day] is just a tradition people like. I don't see the fun out of it because no one's really seen risky business now," said Senior Hannah Kablowsky.
More than anyone else in the building, Seniors always dress to impress on spirit days. "It's their last spirit week of highschool. So it's like their "last hurrah". That's why everybody goes all out. After this, you're gone. You're grown. You're in college, you're broke," said Senior Aryana Street.
Others shared similar remarks, "It's our last year, we're going to be adults next year and have to go to college. [It's] our last chance to really go all out for something like this because you don't have homecoming weeks, I don't think, in college," said Senior Alyssa McDougal.
Some students enjoy spirit week because it allows them to see their classmates in a different light.
"[Spirit days are] fun because it's a tradition and you get to see other people dress up like they normally wouldn't. You would see somebody who might not dress up, gonna dress up goth today. It's kind of fun to see what people do with that," said Senior Brady Metzner.
Even teachers appreciate students' dedication to the themes.
"I think the aspect I like the most about it is being able to see all the different things students wear during spirit week. I really like that aspect as a whole since our school can be very serious, so it's nice just to see people having fun dressing up," said Stephen Oliver, a social studies teacher at West.
On the other hand, some students think of spirit days as an exaggeration of themselves.
"I am very much looking forward to Adam Sandler day. I think it was very unique and it is basically my wardrobe on a normal day. So I'm excited to wear it but also like, be praised for wearing what I normally wear," said Senior Arius Sanders.
Senior spirit days are much more widely known now than a few years ago where Senior themes were shared through group chats and texts, kaing it much harder for everyone to know that day's theme. social studies teacher, and homecoming organizer Padi Kong, praises the new system, "I think the Seniors like it this way better. It is a lot easier for all the Seniors and to coordinate their ideas. It's easier for me to send out reminders of what the Senior dress up days ideas are, it's on the slide show so there's no more confusion on how the Seniors have to dress because in the past, the Seniors didn't always know so they just wore what their classmates were wearing. But now all the Seniors can be dressed up together."
Senior spirit days are revered by all. Many upperclassmen look forward to the time when they themselves can participate in the off-theme themes. "I'm looking forward to having the option to do either [spirit theme] because I have seen Seniors doing the things that [the underclassmen] do. So you kind of have a choice between two other things, which I think is really cool, and nobody else has that," said Junior Vanessa Henderson.
Even if the themes aren't well liked, Seniors still enjoy standing out from the crowd. This week is a fundamental part of the high school experience for Seniors.
"After three long years of unanimity, and being the same as everyone else in the school, we finally get to be different," said Street.