Artist Feature of the Month – February Q & A with Ellie Strand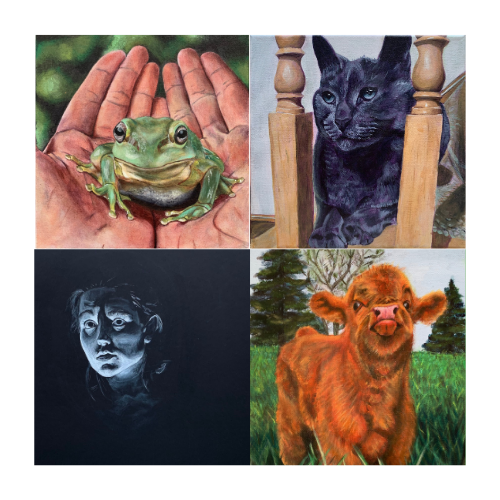 Ellie Strand, a senior at Wauwatosa West, has been making art since she was a child. She enjoys painting things for her friends, like their favorite animals. Ever since taking a painting class at West, she's been able to embrace the medium and make more art than ever before. Here's what she has to say about art in the February Q &A. 
What type of art do you make? 
Most of what I have been doing for the past year is realistic acrylic paintings. One of my favorite techniques is indirect painting where value, color, and texture are built slowly through many layers of paint. This can take a long time but I enjoy the process of breaking down what I see, as well as reacting and adding to what I have already put down. 
How did you start?
I've been interested in drawing, painting, and sculpting for as long as I can remember. I've always looked for new opportunities to try something new when it came to making art. When I was little I loved crafts and building things which has definitely translated into my more detailed work. The end of my eighth grade year is when I started to take my artwork more seriously.
I only dabbled in painting a couple of times before I took Mrs. Marris' painting class here at West. Painting had always intimidated me but that class really transformed the way I viewed my ability and how I approached making art. I've been making more work than I ever did before I took that class.
What's your inspiration?
I think what inspires me most is the people I love. For the past year I've been doing paintings for my friends favorite animals as gifts. I may not be making a big statement with my simple painting of a frog, but what gives it meaning for me is that I am creating an image for someone that I hope will make them smile. I think about the person receiving the painting throughout my whole process, from choosing the reference to the final coat of varnish. If I've given you a painting you can be sure that I really care about you. 
What do you hope to do with your work later in life?
This is a tough one. I try not to have too many plans. I think the next step for me is just studying art in college and I'll take it from there. 
Why do you like art?
I like art because it can be whatever you need it to be. In that way it's kind of therapeutic. Sometimes I need an escape, and replicating every single detail of a photo of a baby cow is what I need. Other times I need to work through something, and finding a way to visually represent it is helpful. And other times, like I said before, it can be a way to connect with people I love. 
What's your advice for other young artists?
I feel like this might apply to other things as well, but it is important to be careful about expectations when you are creating something. It's so easy to want everything to turn out just right, but I think sometimes it is good to let go of expectations when starting a project and to enjoy the process. I guess what I'm saying is not to be too hard on yourself, and to appreciate what you made for what it is.