The Wauwatosa West pit orchestra performs with all of the original music for Disney's Frozen Broadway Musical, which is currently ongoing. The musical opened on November 10th. The Tosa West Theater is the only program in the whole state of Wisconsin that was granted permission by Disney themselves to perform this production along with some of the most iconic music of this generation. The city of Wauwatosa has waited patiently, eager to see this spectacular, jaw dropping show. Students received their music this summer, and began preparing for their many performances ahead.  
All of the students in the theater program were tasked with one of the most challenging soundtracks that the program has ever performed.
"This music is the same music that you would hear if you went to New York and listened to Frozen on Broadway, they copied and pasted [the music]. We have the exact same songs that you're hearing there." said Band Director Alex Hunt.
Playing in the pit is not only an opportunity for students to perform, but it is also a learning experience for everyone. It takes hard work and dedication for the music to come all together in the end. Students spent multiple hours a week practicing at home, as well as with the professional musicians who were hired by Hunt to to play in this year's production.
"When I hire professional musicians, I try to hire mostly people who have some sort of teaching background because for the kids in the pit, not only is this a performance opportunity, but they're also still learning as we go.  They [the professional musicians]  bring a lot of experience and a lot of knowledge to the pit which is awesome because then our kids get to learn by just being around them," said Hunt.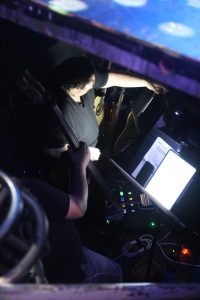 Tosa West's Theater's program aims to put on the best performances and throughout the process of doing so they gain knowledge and experience of what it would actually be like for a major musical.
Along with that, they make lasting friendships and memories. After being around the same people for so many hours and working tirelessly together, the connections made are irreplaceable.  
"I think the most rewarding part is being able to see how you can do something individually but then as a group it all comes together and forms something that's a lot more unique. It's really rewarding to be able to interact with people you wouldn't usually interact with or maybe people you're not used to spending time with," said pianist Lucy Deutsch.
Musicians in the pit are not expected to master the challenging music in the production of Frozen immediately. Collaboration is a key factor in making the final product sound so flawless to those in the audience. The community that is made by the pit is full of highly motivated people of all ages, who work to make themselves and others better musicians day by day.
"Seeing these kids have that drive and that integrity to go home and fix the things that they knew they needed to work on. And they come back a week later, and it's already miles better. It's just really exciting," said Hunt.                                                              
Such a large-scale production like Disney's Frozen brings all of the music programs at Tosa West together. Frozen has made the West community an even more positive place for everyone outside of the music program as well.  
"There's probably over 10% of the school involved in the show and I get to interact with most of them throughout this whole process. I love that this opportunity for directing the pit lets me interact with so many students – both mine, as in the band students, but also the theater students, the choir students, the orchestra students, and the Tech students," Hunt says.
Frozen is Hunt's 5th show that he has directed the pit for. Other shows that he has directed include 42nd Street, Cinderella, Suessical, and Beauty and the Beast. He shows time and time again what the pit is capable of. We are so excited to hear the music for the next show.