Art of the Playlist Challenge
Wauwatosa West sophomore Evelyn Skyberg Greer has created a summer challenge for artists on Instagram. The assignment is to draw something that takes inspiration from one of your favorite songs every week. The challenge gives music lovers and artists the chance to share their art and favorite music in a creative way. Evelyn, who enjoys doing both digital and traditional art, was inspired by the popular Inktober challenge. Inktober is a list of small prompts during the month of October to help artists develop their inking skills. While Inktober gives a prompt every day, the Art of the Playlist summer challenge only has a prompt every week.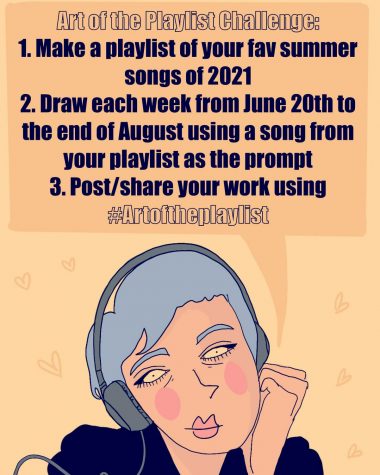 To engage in the challenge you must:
Make a playlist of your top 12 favorite songs.

Each week from June 20th (the Summer Solstice) to the end of August, draw something that is inspired by  one of the songs on the playlist that you created (use each song as a sort of prompt).

Post and share your finished work and tag it with #Artoftheplaylist

If you would like to get updates about this challenge and future challenges follow @inked.rebellion and The Tosa Compass on Instagram.