Tosa West Senior Ellie Strand is Presented with the Congressional Art Award
Wauwatosa West Senior Ellie Strand was presented with the congressional art award from District 5 Congressman Scott Fitzgerald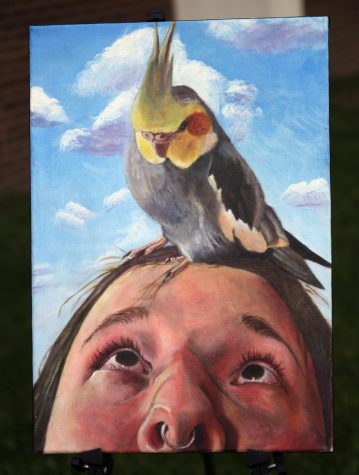 today. Ellie, who was previously featured in the Artist of the Month column, typically paints with acrylic. She won the award for a detailed painting of her and her bird. 
The congressional art award is a nationwide high school art competition. Any representative can participate to hold the competition in their district, and the very top entries are sent to the capital. 
This is the first year the Congressional Art competition has been held while Congressman Fitzgerald is in office, and he thinks it's an amazing opportunity.
"It's a great program. And some of the other artwork that I've seen that was hanging at the Capitol, it's just phenomenal stuff. Just really wonderful artwork. I think it's great for people to participate and engage in an art." He said. 
The artist, Ellie Strand, also believes that it's good for students.
"I think it's really cool that all students have this opportunity to enter their pieces in and  I'm really excited that my piece was entered." 
Her piece was entered by west art teacher Selena Marris. Art teachers encourage students to enter their work in competitions, so many Tosa students like Ellie are winning competitions.