Artist Feature of the Month – April Q & A with Anastazja Branski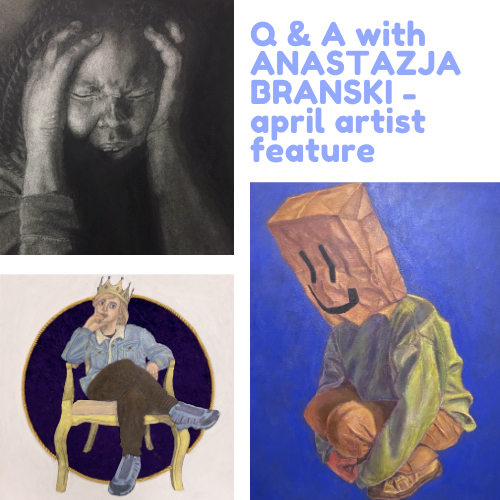 Anastazja Branski, a senior at Wauwatosa West, enjoys making realistic paintings. While she makes many acrylic pieces, she likes other mediums as well. Anastazja mainly paints portraits because of the variety in emotions, so it's more of a challenge. Here's what she has to say about art in April's Q & A. 
What type of art do you make?
I typically make acrylic paintings but I enjoy making charcoal drawings, watercolor paintings, and trying to incorporate some mixed media into my pieces as well. As for subject matter I prefer to paint portraits because I feel like there are so many emotions that you can paint and I like to challenge myself.
Why do you like art?
I like art because it is something that everyone can do in their own capacity. Art has no boundaries and allows people to express a lot of emotion or even create a meaningless doodle. Personally, art is something that I can devote a lot of time to and not get bored because after each piece I can switch up what materials I'm working with or what my subject matter is. 
Do you like using specific techniques or colors?
I like using an indirect painting technique, where you start an acrylic painting with a neutral/purple monochromatic under painting and then make a lot of really thin layers to build up the other colors to make paintings look more realistic. And for colors, I don't really gravitate towards any colors in specific because in my opinion the color scheme depends on the subject of the piece.
How did you start?
I honestly don't remember when I started making art. I have always enjoyed being creative throughout my childhood and in elementary school but I never took art seriously until high school. Now I dedicate a lot more time to each art piece.
What's your inspiration?
I don't really have any inspiration in particular, but for my AP Studio Sustained Investigation I am heavily inspired by the psychological meanings behind colors. Each piece I create is based around the emotions and feelings that are invoked by certain colors.
What medium do you work with?
My most common art medium is acrylic paint on either canvas or Masonite board. I feel like you can do so much with acrylic paint and depending on how you use it, you can achieve many different effects.
What do you hope to do with your work later in life?
After high school I am not actually planning on majoring in anything art related. I am majoring in engineering but I do plan on using my artistic skills with engineering by incorporating design and creativity to make more "out of the box" solutions to modern day engineering problems, or by using the engineering degree to go into product design. Despite not majoring in anything closely related to art, I am planning to continue doing art outside of classes as a way to relieve stress.
What's your advice for other young artists?
My advice to other young artists is that besides practicing, make sure that you are doing art that you are genuinely interested in and to not procrastinate your work. If you aren't interested in what you're painting/drawing/etc. then you're not going to put much effort into it, so make sure you always like your subject matter as your interest can show in your art. And don't procrastinate because the longer you wait and procrastinate on a piece the more daunting it will be to start working on it again, which can lead to you pushing it off until you decide to start a new piece.
What's your process?
My process for creating art varies depending on what medium I'm using. For acrylic paintings I typically start by making small sketches to figure out what composition I'm going to use for the piece, and then take a corresponding reference picture to work off of. Next I either stretch a canvas to fit the dimensions or cut Masonite board so I can use gesso to get a white base to start my paintings. Personally I like to work off of a smooth canvas so I end up wet sanding whatever material I'm painting on. After sketching everything out I am able to create my under painting to use the indirect painting technique and then go into doing the full color with a lot of small washes. Once the painting is finished I always use a spray fixative on my work just to preserve the piece!