Wauwatosa West to Welcome New Principal for 2020-21 School Year
Ebony Grice will begin her new position as the Wauwatosa West Principal for the 2020-2021 school year following the retirement of West Principal Frank Calarco. 
After attending professional learning development opportunities offered by the Wauwatosa School District in previous years, Grice decided to apply when she learned of the available principal position in the district at West. Grice, a Milwaukee-native, has taught and served in leadership positions at urban and suburban and public, charter, and private schools across the area. 
Grice said, "I don't think I've been so excited to come into a new place the way I am right now."  
The first time she took a tour of the school, Grice felt she was "at home." She said there is "a good feeling that you can tell is just left behind by the students and the staff." 
Grice first thought that education was a field she would enter later in life, but after being in the business field she recognized that education is her true "purpose." Grice began teaching in special education and then taught in regular education. Afterward, she became a dean of students and eventually a principal. Most recently, she served as principal of Atwater Elementary School in Shorewood. 
"There isn't a grade level that I have not worked with and so I think that that gives me a lot of experience," Grice said. She believes her experience in both regular and special education has allowed her to see "two different worlds from a teacher's perspective." 
Grice also thinks this "perspective and experience is what helps you do the job effectively."
One of Grice's goals for her first year is "to focus on the excellence that already exists at West, using that information to define what the next step of excellence looks and feels like at West." 
Another of Grice's goals is to connect with students, families, and staff.  
"I want to listen. I want to learn. I want to be amongst students. I want to be in classrooms. I want to be at the games so that I can hear from a student's perspective how they feel, and I feel when I am present with students then we will connect," Grice said. 
She also believes that establishing connections with students will allow them to be honest and feel validated. 
"I feel when I am present with students and I am present in the building then we will connect and people will start to feel like they can trust me, and then have those difficult conversations" when necessary or "a conversation where trust is there, and people can share things with me." 
To maintain a welcoming, safe, and inclusive school environment, Grice emphasizes the importance of getting to know others. 
"I feel when you get to know people as human beings, and you build a relationship with them, and you know who they are as a person, that's where safe environments come from," Grice explained. 
Grice plans to focus on building strong relationships to support the West community in celebrations and challenging times as well. 
"Ensuring strong relationships and a positive culture is an important aspect of a school community," Grice explained.
She further emphasizes the importance of all staff in a school community, especially at West: "I've heard only great things about the West staff. I look forward to meeting them all in-person, being a great support for them, and embarking on this journey together."
Grice also said that in a community, "There will always be difficult things that will happen or difficult things that we'll have to deal with, but if we treat each other as humans first with empathy and with care, with understanding, in those environments, even in difficult times, you feel safe because you know that you can trust people to have your back and to feel heard."
For the Wauwatosa School District, Grice is the first Black head high school principal.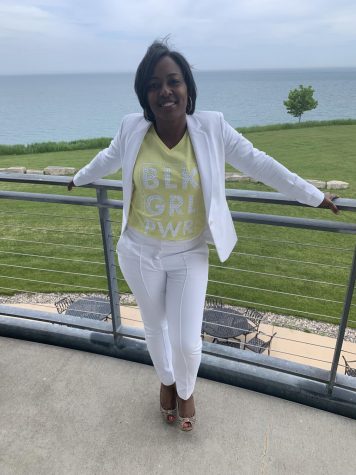 "Being the first Black high school principal is an honor and privilege," Grice said. "It is important for all students to see positive representations of African-Americans and Women; this matters and is an essential component to dismantling barriers, assumptions, and biases."
She believes her favorite quote, "To Whom Much is Given, Much is Required," holds true in this situation. 
Grice also thinks that she brings a relatability for students and considers decisions from a variety of viewpoints. 
"Being a leader of color I think brings a perspective that tries to think about decision making from all angles and specifically for students of color, but not just for students of color, for all students," Grice said. 
Grice is grateful for the opportunity to lead but highlights that the work is "done by everybody." 
"I understand the responsibility of my role but I know that I cannot do this work alone," Grice said. "I am excited about working with the entire Wauwatosa community to see the results that we want for all students."