Wauwatosa West Principal to Retire after Serving District for 29 Years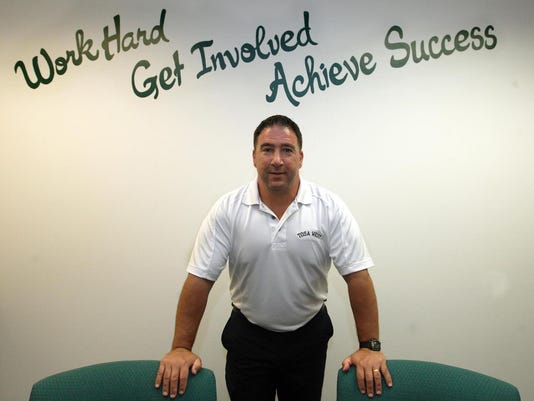 Wauwatosa West Principal Frank Calarco will retire at the end of the 2019-2020 school year after serving as the West Principal for the last 10 years. 
Calarco is no stranger to the Wauwatosa School District.
Prior to his appointment as West's Principal, Calarco served as Roosevelt Elementary School's Principal for 5 years. Before this, Calarco taught at Longfellow Middle School for 15 years. 
Calarco himself graduated from West in 1983 after attending Eisenhower Elementary School and Whitman Middle School. 
"West has been a part of my life since I was in seventh grade, which is when I started going to the football and basketball games and it's really going to be weird not being here," Calarco said. "It's very bittersweet right now." 
The announcement of his retirement was emotional for students and staff as well as for himself. 
"After I announced it you know teachers were coming down and giving me hugs with tears in their eyes and me in tears and some of my students coming up," Calarco said. 
One student in particular, Wauwatosa West Junior Kenna Robinson, is sad to see Calarco retire. 
"Kenna Robinson hugged me on Friday before I left and I just started bawling," Calarco said. 
Robinson is surprised Calarco is retiring this year. 
"I'm pretty distraught about it. Mr. Calarco is one of my absolute favorite grown-ups at West. I thought he had a few more amazing years in him to teach the incoming students of Tosa West how to be a Trojan," Robinson said.  
Many factors contributed to his decision to retire as he said he's "only going to be 55." 
When reviewing his pension from the state for retiring this year Calarco thought the amount was considerable, and sufficient to retire. 
Calarco also spoke with his wife about the decision, who is also a principal. 
"I was talking to my wife about how we have four kids in high school and I haven't been able to see a lot of my own kids things because I'm at the West stuff, and my wife's a principal so sometimes we're at her stuff," Calarco said. 
Together, thy completed a pro-con t-chart chart and found "there were a lot more pros than cons and so we just decided, not only is it best for me, but our family." 
However, Calarco still plans to make the best of his remaining time at West. 
"What's nice about deciding now that I'm going to retire is every day is I'm trying to create this memory of hey this is my last time through, so I really feel like I'm gonna have a chance to enjoy it," Calarco said. 
Calarco says his favorite memory of each school year is graduation day. 
"I can't tell you how many times I start to tear up as kids are coming down that stage," Calarco said. "Those stage steps. That's without a doubt the most amazing memory every year." 
In total, Calarco has been in the district for 29 years. 
Wauwatosa School District Superintendent Phil Ertl is thankful for Calarco's contributions and dedication to the district. 
In an email sent to students and families regarding Calarco's retirement Ertl said, "We are grateful for his years of service to the District and his commitment to and investment in thousands of students who have graduated from West High School during his tenure and leadership." 
At his graduation from West in 1983, Calarco said he never thought he would be returning, let alone become principal. 
Calarco first graduated from college with a business degree and sold insurance. 
"I grew up pretty poor so I always thought I wanted to make a lot of money and that's why I went into business and sold insurance," Calarco said. 
However, Calarco didn't feel insurance was the right fit for him. At the time, he was also coaching at West. 
"I was making good money but I didn't like it, I saw a professor of mine from Concordia who said 'what are you doing selling insurance, you're a teacher and a coach,'" Calarco said. 
Eventually, Calarco decided to return to school to get his teaching certificate. 
Calarco said, "Once I started I loved it. I just love those close relationships that you get to build with students."
Calarco has coached football, girls basketball, and track at West. When he first started teaching and coaching his goal was to be the head football coach at West. "But then you know life changes and I became a principal and the principal job here at West opened so I was lucky enough to get that job," Calarco said. 
During his time as Roosevelt's Principal, Calarco helped to implement Professional Learning Communities (PLC) in the district.
According to the Wisconsin Department of Public Instruction, "Professional learning communities allow teachers to learn from each other by studying best practices and sharing their own expertise in order to create optimal learning environments that will ensure learning among these subgroups."
In a video produced by the district more than 5 years ago about professional learning communities, building leadership teams, and coaching models in the district, Calarco spoke about PLC. The video follows puppet host "Frederick Milan Uppet, Ph.D," as he explores these topics within the district and speaks with various staff members such as Calarco.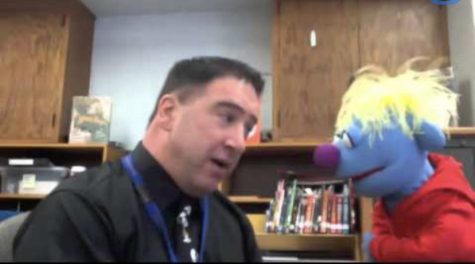 Uppet says Calarco "was responsible for bringing PLCs to the Wauwatosa School District."
According to Calarco, Roosevelt was "the birthplace of professional learning communities in the Wauwatosa School District." 
Calarco first "learned a lot about how to have teachers collaborate effectively" while attending a conference on  PLCs. 
The first year PLC was implemented staff struggled to carve out time to meet with one another. Following this, early release on Wednesday's was implemented to provide this time for staff to collaborate. 
"Teachers found that in that time they were really learning from each other. They found it very valuable and started to embed it in their practice," Calarco said. 
Calarco brought his experience with PLCs at Roosevelt to West. 
"I knew from my time at Roosevelt how to effectively start PLCs and monitor them, and although West had already started PLCs, I think I was able to bring in a little bit more structure and that I think our teachers have really found necessary to get better," Calarco said. 
During his time at West, Calarco also welcomed many student teachers to the building. 
"One of my goals when I came here we have a really good relationship with Marquette and UWM, because I think we have such an amazing staff that I want these new teachers being taught by our teachers," Calarco said. 
When Calarco was first appointed as West's Principal in 2010, an article was published by the Wauwatosa Now about his returning to West as principal after graduating from West in 1983. 
In the article Ertl said Calarco was appointed due to his success working with students in other positions within the district as well as his "'participatory' leadership style." 
"'His enthusiasm is contagious,'" Ertl said. "'I think he's got that long-term commitment to Wauwatosa and the school district.'"
Regarding the Princiapl position at West Calarco said, "'I think they just need somebody sitting in this chair for a while. I feel very lucky to be back here.'"
Calarco has remained dedicated to the district throughout his professional career.
In the article Calarco said he hoped to bring "stability" to the position as in the seven years prior, West saw four principals.  
When Calarco was first appointed Ertl hoped Calarco would "finish his career at West."
He will.