Tosa West Holds Annual Art Show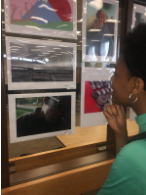 Over 200 students presented artwork to the Wauwatosa community at the annual Wauwatosa West Art show. Students from introductory art classes to advanced placement classes presented art.
"Most of them are actually pretty good. I didn't think that high schoolers would have this much talent. This is the stuff that I would expect to find in art museums," said Freshman Ryghtious Fraiser.
The definition of art is when the expression or application of human skill or imagination, is applied typically in visual form such as paintings or sculptures.
"Art is a way of expression and it's such a good thing," said Sophomore Djay Hayse.
Wauwatosa West sold many pieces of art that the students made profit from. If the art didn't sell, it would then be copied and sold for a more decent price.
"I think for some of them the price is reasonable but some are a little bit over price and I also understand because some want to make profits of some of their art work," said Senior Tralen Hazelwood.
Many parents and friends came and supported their children and friends.
"Yes, our child did make one of these magnificent pieces of art and we came to help support her and her passion," said Zack Kniffin and Gretchen Kniffin, parents of a freshman student.
Even if students didn't have a chance to come to the show, they were able to still go to the library to see their friend's art pieces that continued to hang there.
"Yes, I thought it was a success because students felt really proud of what they did, they were able to get feedback include to those in the community," said Selena Marris, art teacher at West.
Overall the art show claimed to be a success and if you couldn't make it this year, make sure you come check out the artwork next year and even think about purchasing a piece!