Lack of Substitutes Teachers Presents Challenge to the District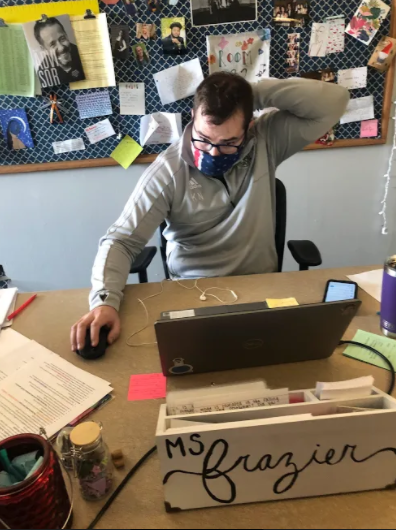 Everyday Administrative Assistant Lisa Schrems, wonders if there are going to be enough people able to fill in for absent teachers at Wauwatosa West. 
"It can cause a lot of stress depending on what else I have going on. Like right now I have to cover a Gym class 6th and 7th hour, we haven't had a teacher pick it up yet. So then I have to start begging," said Shrems.
It is well known that the United States is experiencing a shortage of workers. A shortage of substitute teachers has had a big impact on Wauwatosa schools. . 
Superintendent Demond Means said in an all district email sent on January 7th, that the average absentee rate was 13.5% for the preceding week which caused many teachers to fill in for one another. The district is working hard to fill these vacancies however acquiring substitutes has proved to be a difficult task. 
"Subs don't want to come into our buildings from the outside or are hesitant to go into school buildings at this point with COVID," said Schrems
According to the Wauwatosa School District Human resources director, Jenifer Fotsch, there are typically on average 75 to 100 employee vacancies a day. Not all of them require substitutes, but the supply of substitutes cannot keep up with the demand.
Without substitutes coming into the building, staff inside the building are being asked to fill in for other teachers. 
Typically full time teachers at Wauwatosa West teach five classes a day and have two preparation periods. The school relies on faculty when substitutes aren't available, causing many teachers to give up their time to contribute to the issue.
"You're giving up one of your periods of prep to get stuff done during the day and therefore you have to do more work at home on your own instead of getting it done during the day," said Biology Teacher Kyle Navin. "It is more stressful because you're giving up your time to do your own work to cover and to make sure the school functions," he continued. 
 Schrems is responsible for making sure all classes are covered before the start of the school day. Each morning she checks teachers absences and sees if a substitute has covered their classes on the electronic system. 
"The one thing I can say is of all of our schools in the district, West is a really good school (in terms of) our colleagues covering for each other…a lot of the other buildings don't have their staff so willing to cover for each other. Nice to know that I have our staff willing to cover," she said. 
During the fall of the 2020-2021 school year, students were divided into cohorts with half of the students attending on Monday and Tuesday and the other half attending on Thursday and Friday. A number of students also chose to go "full virtual" and attend online classes via the Wauwatosa Virtual Academy. 
"Last year it was a bit easier because we had less kids so we could double up classes.  I only had half the kids here during the week" said Schrems.
The lack of substitute teachers has also forced Schrems to combine classes or study halls when a teacher is out. Silent study halls are now combined and held in the school cafeteria instead of individual classrooms. This frees a student supervisor to cover a course. 
"Study halls are combined. So that gives us an extra body…it gives us somebody to be monitoring the halls and then somebody in the Trojan Room to cover both the study halls." 
Other times she has to combine classes in the large lecture room in the library called "The Steiner Center ". Students are then expected to access their lessons on the learning management system Canvas.. 
"We've had to combine classes like 'Introduction to Marketing' and 'German' in the larger Steiner Center."  
Schrems believes Canvas helps students work through the disruption of a missing teacher, combined classes, and random substitutes. 
"If your teacher is not there, your lessons are out on Canvas. If you have the 'Introduction to Marketing' students and the 'German' students in the Steiner Center they're both going into Canvas to get their work. So it's almost like a study hall. But you're getting work done for that academic subject. We couldn't have done that a couple of years ago," she said. 
A major challenge to finding substitute teachers is concerns over contracting the COVID19 virus from coming into contact with students, teachers and staff in the high school. 
Additionally, many students have admitted to not showing substitutes the same amount of respect as they would show their normal teacher. This results in little compliance and disregard for their efforts to teach. 
"I usually don't hold substitute teachers to the highest respect, I appreciate their services and go about my work, but I do notice when some subs are being disrespected when they're only trying to do their job," said senior Johnnie White.
Yet some substitutes love their job and look forward to spending their time with students.  
"It gives me a reason to get out of bed in the morning. I feel I'm providing a service. I like being with kids who are taking things seriously, I don't like being in classrooms where the kids are just putting in time and they're disruptive and they don't have a sense of purpose. I like being with kids that have a sense of purpose. And I like you know, advising them a little bit," said substitute teacher Dennis Wooker. 
Recently the district partnered with EDUstaff to combat the shortage. EDUstaff hires new daily substitutes, while also giving the District the latitude to hire its own long-term substitutes. A new pool of invested substitutes have been hired, bringing the approved number to seventy-seven  new subs in the district. 
In addition, the school also hosted a job fair on November 20th in the hopes of recruiting new subs and employees in general. 
"It's a little bit unprecedented to have a job fair in November. Those are usually springtime activities, but unprecedented times call for different solutions. So we're going to explore the solutions we can,"  said Fotsch.