Wauwatosa School District Follows Startling Superintendent Trend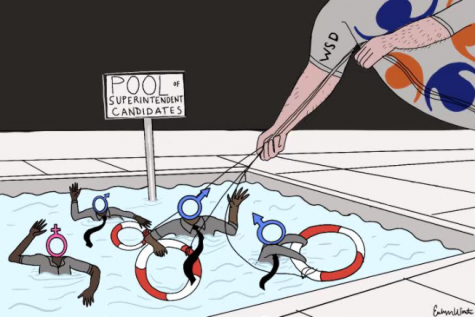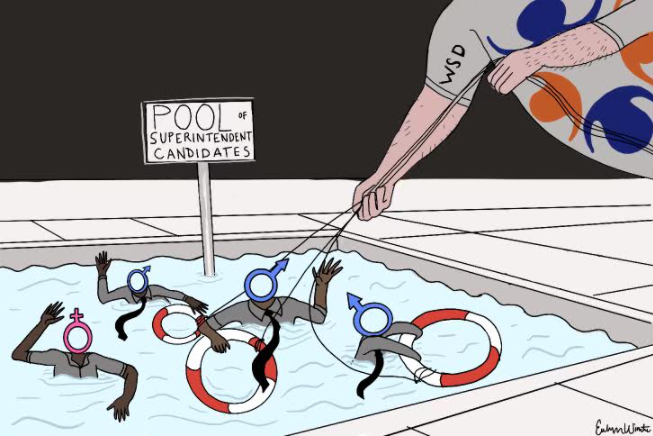 On Friday, April 16, the Wauwatosa School District officially announced three final candidates for the Superintendent position in an email and press release to the school community. 
This follows Dr. Phillip Ertl's notice of retirement effective June 30, 2021. According to the Wisconsin Association of School Boards, the typical superintendent in Wisconsin changes an average of every three years, making Dr. Ertl's 16 year tenure especially impressive. Thanks Dr. – I appreciate your dedication.  
The finalists are Mark Holzman, Demond Means, and Kurt Schneider. Each candidate spent a day touring the district and meeting with a variety of stakeholders. 
I'm grateful for the opportunity to meet and hear from each of these candidates during their student forums held at Wauwatosa East. I can report that each of these candidates are highly qualified and would bring a unique skill set to the district. 
I also noticed that all of the final candidates were male. One of these men will continue the Wauwatosa School District's legacy of all male superintendents. 
The search process for Wauwatosa's next superintendent started with the hiring of consulting firm School Exec Connect. 
Parents, staff, and students submitted over 800 individual responses to an online survey and 14 focus groups were organized to discuss and identify their ideal candidate. Together, the Wauwatosa community was able to create a profile of the traits and characteristics desired in the next superintendent. 
The candidates were assessed for their experience in diverse school districts, success in closing achievement gaps, and commitment to collaboration. 
36 applicants from nine states – and Morocco – submitted applications, reports School Exec Connect. Of the 36 original applicants, ten were women. Of the six candidates that were recommended to the school board for preliminary interviews, one was female. Additionally, the school board asked the consultants to present two more candidates, both of whom were male. 
The eight preliminary finalists represent a ratio of 7:1 of men to women. The high number of male candidates versus female candidates mirrors a startling national trend. 
Federal data and a survey conducted by AASA report that nearly 80% of K-12 educators are women, yet only 24% of the nation's superintendents are women. In other words, 8 out of 10 educators are female, but only about 2 of 10 superintendents are female. 
The most common explanation for the predominantly male superintendent trend is the fact that women simply aren't applying at the same rates as men. This can be seen in Wauwatosa's original pool of applicants, which only included 10 women. 
The AASA explains that this isn't for a lack of qualification. In fact, women earn graduate and doctoral degrees in education at a similar rate as men. 
A second often cited reason is that women aren't interested in the management aspects and uncertainty that comes with the position.
 For example, a third of women superintendents specified that their school boards hired them for their "instructional leadership" skills, while less than a quarter of men indicated this trait, according to the AASA. Instead, men are often chosen for their experience and skills in fiscal management. 
In order to combat a lack of fiscal management skills, some districts shift budget responsabilites to assistant superintendents or other staff. This allows superintendents who are more experienced in education, hands-on instruction, and achievement gaps an opportunity. 
However, multiple issues play key roles in the lack of women hired and applying for superintendent positions, such as the scarcity of female role models in leadership positions and unconscious bias in the hiring process.
Despite the national statistics, Wisconsin is among the states with the most female school district superintendents. Most recently, the 2021 state superintendent election resulted in a vicious race between two women.
Dr. Patricia Deklotz, current School Exec Connect consultant and former superintendent of the Kettle Moraine school district, believes that "Wisconsin is a leader among states in the area of advancing female leadership through their responsibility as superintendent because of work that was done decades earlier." 
Deklotz reflects on her time on Kettle Moraine's school board in the early 90s, where they selected Sarah Jerome to serve as superintendent. Jerome was one of few female superintendents in the state at the time. Deklotz comments that "she and others have paved the way by encouraging each other and those not yet in the role and demonstrating their unique talents and capabilities." 
When Deklotz served as superintendent from 2006-2020, women in educational leadership positions were on the rise in Wisconsin. But there is still work to be done.
While no one should be selected for a position based on gender or physical traits instead of experience, there are steps districts can take to promote and encourage women to enter leadership and administrative roles.
To be a leading district in gender equity is to be exactly that – a leader. The Wauwatosa School District can not push gender boundaries or shatter glass ceilings by following trends.