4 Things to Know about Superintendent Candidate Kurt Schneider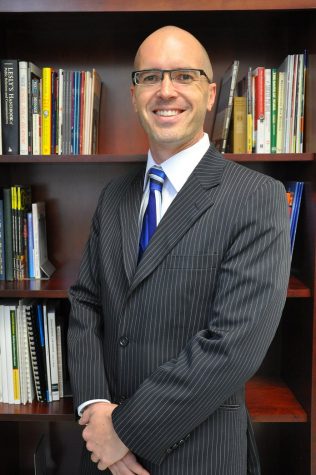 On Monday, April 19, the first of the three finalists for the Wauwatosa School District Superintendent position, Dr. Kurt Schneider, toured Wauwatosa schools and participated in multiple forums. Dr. Schneider spent some of his day at Wauwatosa West where he toured and answered questions at a staff luncheon before moving to East for a student panel. Here, over a dozen students from East, West, Longfellow, and Whitman, were invited to ask questions in person and over Zoom. Dr. Schneider also participated in a community forum as well as a final interview conducted in closed session with the school board in the evening.
Background
A Wisconsin native, Dr. Schneider hails from Sheboygan and has background working in Dane County and Chicago area school districts. Schneider has experience as the Superintendent of the Northern Suburban Special Education District #804, where he served for five years. Here he worked to assist, coach, and consult the special education programs of the 18 member districts and their 37,000 students. He also has experience as Assistant Superintendent for Learning (Pupil Services/Curriculum & Instruction) in District #181 in Hinsdale, Illinois. Schneider graduated from the University of Wisconsin, Madison with his masters degree and P.h.D in Education, where his interest in special education was sparked by one of his professors. 
First Steps as Superintendent
Dr. Schneider describes his first steps as Superintendent as building relationships in the Tosa community. He clarifies that this involves trust, getting to know others, and believing in each other – "that's step one", Schneider explains. Next, his priority will be listening to teachers, students, families, and community members to determine what needs improvement and create a plan that takes multiple perspectives into account. "I can't do that alone," he comments.
Leadership Style
"I'm not the person to come in and tell people what to do." Dr. Schneider describes his leadership style as collaborative and open. He believes that foremost, the work of a Superintendent is to listen to the needs of their educational community. Schneider plans to continue Dr. Ertl's student advisory committee, as well as the student representatives on the school board. He looks forward to determining the best course of action for issues the district faces through discussions with students, staff, families, and other community members.
A Unique Perspective
When asked what perspective he can bring to Wauwatosa that sets him apart from the other finalists, Dr. Schneider reflects on his time as Superintendent of Northern Suburban Special Education District #804. His extensive experience in special education illustrates his values of diversity and inclusion for all students. He explains that "good teaching doesn't matter if you have a disability, are a student of color, or speak more than one language," and that this outlook is something he can further emphasize in Wauwatosa to ensure that all students have equal opportunities.
Watch a recording of the community forum with Dr. Kurt Schneider below.