Day in the Life of a Wauwatosa Police Dog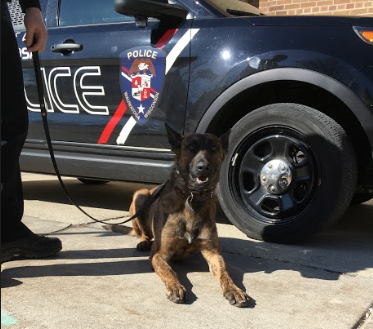 "He's a very good partner and I couldn't see myself working without him," explains Wauwatosa Police Officer Ben Ziegler about his partner, a dog named Zev. Last April the Wauwatosa Police Department welcomed its newest police service dog, K-9 Officer Zev, who became the department's second canine unit. 
Two and a half year old Zev began his journey as a puppy in the Czech Republic, where the owner of Shallow Creek Kennels, a police service dog importing and training facility in Pennsylvania, hand selected him. Every year the owner travels to Europe and imports back 80 to 100 dogs that he believes shows traits of a successful service dog. Dogs come from all over the country to train at Shallow Creek Kennels, which boasts a high reputation as hundreds of police departments and government agencies trust them to supply and train their dogs. Officer Ziegler personally chose Zev after two days of observation and picked him because he believed Zev had the strongest bond. Most police dogs are German Shepherds and Belgian Malinois, so Dutch Shepherd Zev is easy to spot because "he doesn't look like a lot of the other police dogs. He's brindled in color, a lot longer, and very very skinny."
After returning to Wisconsin, they continued to train, and do so at least once a day. Their routine varies daily based on the calls they get and the amount of time available. Trainings include sniffing for narcotics and exercising, for example. His training depends on his favorite toy, a rubber ball on a rope, which serves as a reward. He will pass up steak, dog treats, and basically everything else, all because he knows he gets his toy if he is successful. All of Zev´s commands are given in Dutch, so that the average person could not distract him from his job. There are also non-verbal commands. For example, if Ziegler puts his right foot forward Zev knows to stay put, however if he walks with his left foot forward he will follow. Great communication between Officers and their dogs is extremely important not only to ensure that the dog always follows commands, but also because all police dogs have to pass a national certification every year. This certification tests to ensure that Zev will follow commands, stick to his goal, and always  listen to his handler. 
A common public misconception of police service dogs is about their "heightened aggression". However, this is often not the case, and especially not with Zev. He is a high energy dog, but very friendly. In fact, Zev lives with Officer Ziegler and his two other dogs. Zev also loves to greet neighbors and strangers with jumps and kisses. Police dogs do so much more than catch criminals and sniff for narcotics, such as helping to find missing children and evidence, and are an important of every police department. These dogs are "very beneficial to the department and community as a whole," Officer Ziegler notes.