Behind the Ink – Student Tattoos in Wauwatosa
Tattoos. They are everywhere, on people's arms, legs, and necks. If you look around the halls of Wauwatosa West you don't have to look hard to see a tattoo. 
Despite the law in Wisconsin banning minors from getting tattoos many students find a way around it. Others wait until they are 18. 
"I have always had a fascination with tattoos. Having art on your body was so intriguing to me. I used to always draw fake tattoos on me to pretend to have one before I got mine," Senior Isabella Jacobson said. 
Jacobson got her tattoo shortly after turning 18. Jacobson is a tattoo enthusiast who plans on getting more tattoos in the future. 
While tattoos come in all shapes and sizes, the meaning is anything but skin deep for those who get them.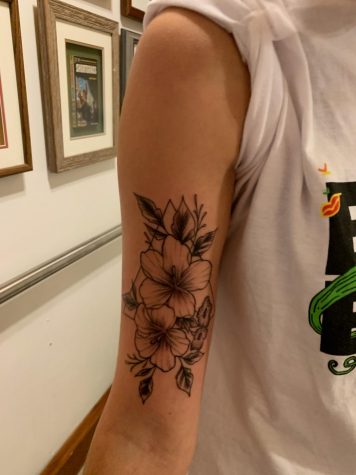 "My tattoo is some flowers interloping a triangle. I wanted to have the triangle represent strength and the flower to represent beauty," Jacobson explained.  
According to an Ipsos study, 3 out of 10 Americans get at least one tattoo, with a majority of the demographic being ages 18-25. 
Another Wauwatosa West Senior Violet Locher plans on getting a tattoo later this month. 
"I am getting my middle name tattooed on my inner left wrist," Locher explained. "I like the art of the tattoo and the name. It's my great grandmas name so it's a family thing, she's like my guardian angel which is why I think it's so important to get."
Like Locher, Junior Angel Resar also has a tattoo dedicated to someone significant in her life. 
"The one on my side that says Maxine, is for my friend who passed away a few years ago," Resar said. 
Of those that start getting tattooed, 70% of people end up getting more than one and 20% end up getting more than 5.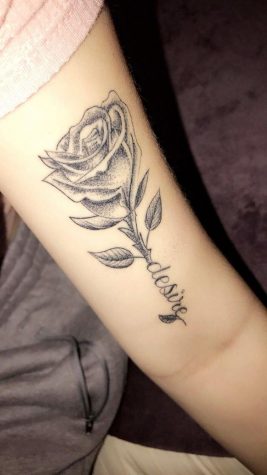 Resar recently got a few tattoos in Los Vegas since she was unable to in Wisconsin due to her age. Resar plans on getting 2 more in the future for a subtotal of 8 tattoos. 
Despite the rising popularity of tattoos and a decrease in social stigma against tattoos, the law against minors getting tattoos has remained the same and does not allow minors to do so in Wisconsin (even with parental permission). 
"I think they should be able to at 16 because I've been wanting one for years. I think it's half and half, some people do it and regret it so you should plan it out and sit on it for a couple of months," Locher said. 
Junior Logan Ertl also agrees that teenagers should be able to make their own informed decision, rather than the states restriction on it based on age. 
"I think if someone thinks that something means enough to them to put it on their body, they should be able to do it," Ertl explains. 
Ertl has one tattoo on his left shoulder that he got as tribute to his family.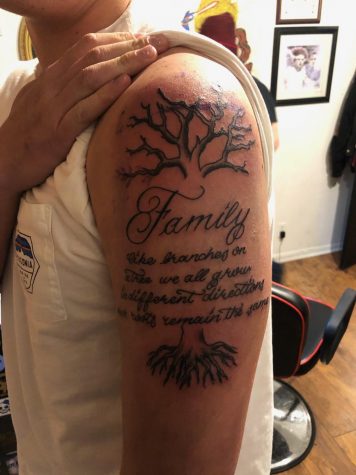 "My tattoo is a tree with a verse saying 'Family, Like branches on a tree we all grow in different directions, but our roots remain the same.' I feel like my family means a lot to me and I wanted to represent them on me," Ertle said. 
However, some are supportive of the age limit set on tattoos as it allows students to mature before they make a permanent decision. 
"I think 18 is a good age because it gives you enough time to understand what you really want and why you want it," Jacobson explains. 
Like Jacobson, Tattoo Artist and Shop Owner Eric Edwards agrees with the laws set and believes strongly that underage students should not be able to get tattooed.
Eric Edwards works at Committed to the Ink. He has been doing tattoos since he was 15 and has been a professional licensed tattoo artist for 4 years. 
"Now that I'm in the professional field and I see what it does to younger kids, I don't think people under 18 should get tattoos," Edwards explains. 
There are also a lot of risks to consider before getting a tattoo. Blood borne pathogens such as Hepatitis, Mercer, or HIV could be spread through the needles used and are more likely to be spread when the tattoo is not done professionally. 
"Do not go to a tattoo parlor that is not rated well and/or has cleanliness issues. Go to an artist that knows what they are doing," Jacobson advised. "You can usually tell if they are legit based on their prices. If you can get a large tattoo for cheap you may want to rethink the location and why its so cheap."
A lot of the time scratchers, people who train themselves without apprenticing under more experienced tattoo artists, are a lot cheaper than going to a tattoo parlor which is a main draw to underage students, especially since they tend to be more willing to tattoo underage customers. 
"I can't get tattoos since I'm not 18 here so I went to a guy I already knew a while out of state since I already got a few tattoos from him. I got it done at his house rather than a tattoo parlor," Resar explained.  
While the state of Wisconsin requires a license in order to tattoo, both tattoo artists and scratchers alike are able to obtain a license with little to no training before hand. 
"In Wisconsin the licensing is really poor, like I can work out of out of a basement and send my paperwork in to Madison and they'll send me a license," Edwards explained.
While the licensing may be easier to obtain, Edwards strongly encourages people to go to professional parlors that abide by the Milwaukee Health Department's sanitation laws.  
"You could have a basement tattoo artist licensed or you can have a parlor licensed artist and you can just tell the difference. It just shows the distance in the professionalism of going to get your credentials at home or going to get your credentials in the business." 
Edwards also said, "If you don't get it professional because it's illegal under 18, you can mess the rest of your life up. Health wise, the decision you make at 15 can mess your life up at 21 just off of what basement tattoo you chose to pay $40 for."
Environmental Health Coordinator Patrick Doornek breaks down the health regulations that inspectors look for when issuing licenses to parlors. 
"We do a preliminary inspection before opening and write up a report and say ok, you know, you might have to add a hand wash sink, or get rid of the carpeting and put in a different floor just going down the checklist of all the things that are in the code." Doornek explained, "Then once those things are completed, we issue the license and then from there on out we do routine inspections, a minimum of 1 per year." 
In addition to health regulations that go into determining if a parlor will be able to open, there is also city ordinances that they must abide by. 
As it stands there are no tattoo parlors in Wauwatosa due to Chapter 24.08 – Use Classifications of the city ordinance that, "Excludes non-medical permanent body art establishments and use types more specially classified, such as hospitals." 
The regulations and restrictions on tattoos aim to make it a safer practice. The reward of having something permanently on one's body for the rest of their life may outway the cons as long as the design is significant to them and the methods are safe.
However, Jacobson said, "I do not regret any of my tattoos because they are now a part of me and make me who I am today, I love them."