West Orchestra Holds 2019 Kinderkonzert
On Saturday December 7th Wauwatosa West Orchestra held it's 21st annual Kinderkonzert. 
"Overall it was a very successful event. Each concert has its own feel and vibe to them and it's interesting to adjust to. The first concert had fewer people at it, it was a little more quieter. The second one had more energy. The second on i think we got a little more settled in our music so it sounded better than the first concert," said West Orchestra Teacher Tiffany Chang. 
Kinderkonert is an annual event sponsored by the Tosa West Orchestra where West students play a short lively concert featuring a variety of holiday music for children under 10. This year they played songs "Rudolph," "Polar Express," "Mrs. Chang (Grandma) Got Ran Over by a Reindeer," and more. 
Although the purpose of the event is to entertain and engage young children, the orchestra had their own fun as well. The orchestra transformed the holiday classic "Grandma Got Ran Over by a Reindeer" into "Mrs. Chang Got Run Over by a Reindeer."
"My favorite part about Kinderkonzert is all the various types of music that we play, also when 'Grandma Got Run Over by a Reindeer' was transformed into a skit and then Mrs Chang got ran over," said Senior Violinist Ajmal Taujoo. 
Chang didn't want to offend any grandmas so instead the orchestra played "Mrs. Chang got ran over by a Reindeer". Two students wrote a skit in which Chang was wandering around Christmas Eve night and two of Santa's reindeer knocked her over. 
"I went out on a limb and allowed a skit for 'Mrs. Chang Got Ran Over by a Reindeer' that was an experience I would not forget," said Chang. 
After the concert Santa Claus was also present for children to talk with. After the "reindeer accident" Claus said as punishment he gave the reindeer "a stern talking through."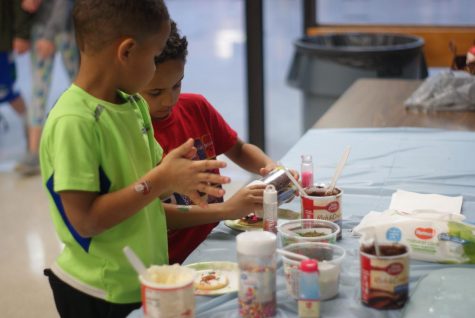 Additionally, there were other activities for the kids such as crafts and an "instrument petting zoo"
The "instrument petting zoo" is an opportunity for young kids to explore and experiment with different instruments with guidance from high school students. Many high school students, such as sophomore cello player Keeler Hick who helped at the instrumental petting zoo, enjoyed the experience.
"It's been a lot of fun actually. It's nice to tell the story of how I got to be a cello player and how interesting and what kind of things a cello can do. And it's just really nice to be able to share that with the younger generation," said Hick.
Past Wauwatosa West orchestra teacher Dave Topolovec started the concert 21 years ago.
He said by his last 5 or 10 years of teaching "there were students in the orchestra that actually got into orchestra playing because they were three or four years old, and they came to the concert."
Some students currently playing in the orchestra, such as Junior Bassist Bella Minahan, attended the Kinderkonzert many years ago.
"I generally don't remember coming to that Kinderkonzert but I think that makes it more funny because all these years later I ended up playing bass for Wauwatosa west and now I play in Kinderkonzert," said Minahan.
Minahan was one of the students interviewed in a Tosa West Student News segment produced in 2010. The segment was rebroadcast during TW TODAY, the 7 minute all school morning announcements program. 
Kinderkonzert also served as an opportunity to bring various ages and demographics in the community together according to Chang, and share the holiday spirit. 
Chang explained, "My favorite thing is seeing how happy people are to share their music in terms of the highschoolers. The little kids basically freak out at all of the stuff they (highschoolers) get to do."
Dylan Jenkins Kylie Hogrefe