Thanksgiving Break Approaches for Students and Staff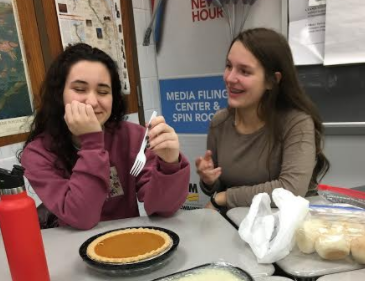 Thanksgiving is coming quickly. One of the only holidays when you get to eat so much food you pop a button on your pants and you can not eat anymore food.
"My favorite food for thanksgiving is yams," Amirah Cornelius said, a senior at Wauwatosa West.
Thanksgiving is a holiday where people can enjoy eating plenty of food and gather with family. 
Thanksgiving is a big holiday for many before the biggest holiday of the year, Christmas. 
"My favorite part about thanksgiving is all the food,"said Wauwatosa West freshman N'yema Moss.
"The best part about Thanksgiving Is the family," said Wauwatosa West Senior Isiah Hughes.
"I like getting everyone together but I just love Thanksgiving all together because its more relaxing more than Christmas," said Kathy Schultz, a Culinary Arts teacher at West.
Others also like the opportunity to spend time with family that the holiday provides.
"It may be a little bit corny but I like the fact when everyone comes together and their just happy," said D'Nica Walker, a senior at Wauwatosa West High School.
Thanksgiving spelled backwards is giving thanks. For some kids and even teachers its giving thanks and seeing everyone that you love all in one room for a day or even the weekend.
"In my opinion, the best part of Thanksgiving is giving thanks to the ones that you love and seeing everyone that you love all at once," said Keyanna Bratz, a former Wauwatosa West student. 
"Thanksgiving is the best time of year because it's all about getting together with your family and just enjoying each other's company," said Shultz.
Traditionally families on Thanksgiving come together for the holiday. On Thanksgiving, people like to relax. 
"I like Thanksgiving because I get to be with family and also get together with family members. I also like watching football," Social Studies Teacher Chad Mateske said.
Mateske's favorite food on Thanksgiving is "turkey with gravy."
For the break, students are off November 27th through December 2nd, and return to school on December 3rd. Staff returns on December 2nd for a Professional Development.