Community Celebrates Lives of two Wauwatosa West Graduates
Compassionate, genuine, positive and joyous are the words you hear repeated again and again to describe two of Wauwatosa West's former students, Se'veon James, and Zahnya Hunter who tragically lost their lives to carbon monoxide poisoning on Milwaukee's Northside the morning of November 8th.
"You never heard them say anything bad about people. They were good-hearted people and worked hard, taking constructive criticism, " says Wauwatosa West Teacher Christa Botsford.
Although they graduated two years ago, Zahnya and  Se' Veon had a genuine impact on students and the Wauwatosa West community. Numerous students maintained a close relationship with the couple.
On Thursday, Nov 14th there was a special extended all school advisory presentation in remembrance of both students. 
"Our staff and students have been really hurting since we found out last Friday what happened. And we just got to a point where we're tired of hurting and we wanted to do something to acknowledge it," says West English Teacher Emily Jones. 
One teacher came up with the idea to use the links in remembrance of the students. West English Teacher Thomas Norstrem suggested the project wisdom announcements, where you do a moment of silence for somebody you've lost and loved.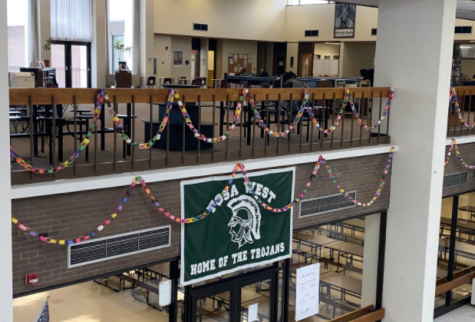 "Candance Hunter was so excited to hear that we were going to do it. I sent her pictures of the chains and I recorded the announcement and the advisory and shared it with her," says Jones.
Zahnya's mother; Candace Hunter is pleased with Wauwatosa West's efforts to remember the impact her daughter left on the school. 
"I am excited that all of the staff and students are coming together to honor my baby, this warms my heart. The advisory and the photos mean so much to me," Candace Hunter.
Many in the Wauwatosa West community would like to remember the students in a bigger way, beyond just the advisory presentation.
"We've talked about doing something more permanent, some kind of Memorial, whether it's a bench outside or something along those lines," says Jones.
Many staff recalled Se' Veon as a friendly, respectful, and open-minded student.
"I used to call him Old Man. He handled himself in a very mature manner," said West Social Studies Teacher Chris Benes.
Benes remembers Se' Veon as friendly with everybody.
"Sometimes we get so caught up in our little cliques or groups, but he was just so kind and friendly to everyone regardless of their grade or whatever," said Benes.
They were individuals who loved to have a great time and make others around them laugh.
Se'Veon was an athlete on the Wauwatosa West Basketball team for all four years. 
"Se' Veon was a true team player, he never was a ball hogger but if he had a shot he would take it no matter what," said then Varsity Basketball Coach and Whitman Science Teacher Chad Stelse.
For Coach Stelse and countless others, the loss of both is something that seems very unbelievable.  
"I can't believe this is real," said Stelse. "Se' Veon you will be truly missed."
 Zahnya will also be missed by many students and staff.
"I had Zahnya in my advisory for four years. And she was just a stinker like always teasing me and, you know, making fun of me because I didn't know how to use my phone. And she would teach me different things to do on it," said Botsford.
Se'Veon and Zahnya were both leaders of the Wauwatosa West community. They always followed the Trojan Way and were overall model students. 
"My favorite memory of Se'veon was eating out with him and a couple of other teammates before a game. He was a character and it was hard not to laugh whenever he did something funny. I'll really miss that look he'd give you when you just knew he was about to say something funny," said 2017 Graduate LeRon Perine. 
As news of their early morning death rippled through the school on November 8th guidance counselors and the counseling department provided students support and space to process the tragedy.
"We knew something happened. But it's kind of hard for us to react. We didn't know what we're dealing with yet. And unfortunately, social media is where many students found things out. By lunchtime, we became really aware of it," said Wauwatosa West Counselors Nickolas Becker and Brain Hoffman.
Some counselors were also brought in from Whitman and Wauwatosa East.
"We had between 10 and 15 students in the career center with the blinds down, giving individuals the chance to process and speak with each other and find things out, there was kind of a process students were coming in, students were going home as they felt unable to continue on the day," said Hoffman.
Wauwatosa West would like to remember the lives of Zahnya Hunter and Se'Veon James as two individuals who left a true impact on our school community. 
"I feel that a great way to remember Seveon in our school would be to retire his number and basketball jersey, basketball was his favorite sport," says Kalyah Allen a Senior at Wauwatosa West.