Electric Scooters in Wauwatosa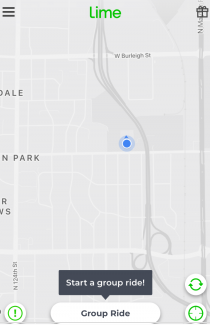 Students are riding through the streets of Milwaukee and Wauwatosa on the new, popular electric scooter.
Electric scooters are stand up powered scooters with a small engine. There are many pop up stands where customers can use a scooter. To use one, people must download the app Lime, and scan the code on the scooter. 
"Electric scooters are just one example of new technology that allows easy transportation to work, school, and other daily activities," said Wauwatosa School District Superintendent Dr. Phil Ert. 
A junior at Wauwatosa West, Ethan Peplinski, has experience on riding the electric scooters around town and also thinks it's a good way of transportation and affordable. 
"There's a barcode on the scooter itself, and you have to scan it, it's about $1 to unlock it and then every minute it's like 25 cents. So it's actually really not that expensive. I rode on it one day for about an hour and it only cost me like $14," said Peplinski. 
However there are some restrictions regarding the scooters. 
"They can be ridden on streets, bike lanes and multi use pathways such as the one that's parallel to the to the Menomonee River Parkway. But you can't ride them on sidewalks." said Eva Ennamorato, Wauwatosa's Communication Director.
Additionally, the city of Wauwatosa attorney created a law requiring all electric scooters be picked up by the company if a scooter has been left in the same location for more than 24 hours. Wauwatosa made an agreement with Milwaukee that allow scooters to be dropped off in Wauwatosa as long as they are picked up at night. 
Some scooters in the Wauwatosa are collected by "Juicers," people that pick up these scooters.
Electric scooters can also provide a source of income for users. Users can earn the extra money by charging scooters at their homes.
"When I downloaded the app, there was an option to do the charging on the side. And so it was just an easy thing where you bring them home, charge them and get paid for it. So essentially you get to ride around in the meantime for free, and then charge them," said Josh "The Juicer."
"The Juicer" is a part time job that is available to anyone that is willing to pick up scooters before the next day, as well as drop them off at designated areas in the morning. 
Josh initially experienced riding the scooters at the Air Show downtown earlier this year. 
 "I just really liked the experience of riding electric scooter versus you know, kind of jog around… So that's what got me interested in wanting to find another way around," said Josh.
Electric scooters can also serve as transportation for students who need a form of transportation to school.  
"Personally I am okay with students coming to school anyway they can that is safe.  Traffic is an issue with scooters as people do not see them as well. But if there was a plan for a safe route to the building I think it is a good alternative for some to come to school", said Wauwatosa School District Superintendent Dr. Phil Ertl.
Some students traveling to school from Milwaukee would be able to use the scooters. 
"I think it is pretty safe for them to be anywhere as they have security built in–at least most of the companies do like Lime. Transportation is evolving and improving," said Ertl.