West Senior to Travel to Bootcamp for Marine Corps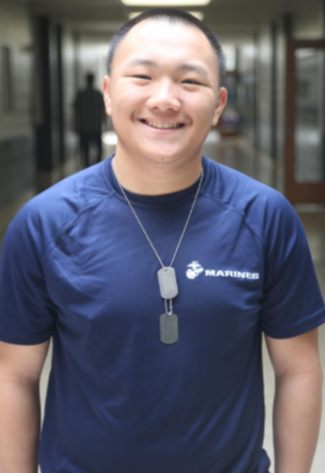 Wauwatosa West senior Cheenu Moua will travel to bootcamp June 18, to train for the Marine Corps. This decision was inspired by family members, his own interests, and the motivation of others.
The decision wasn't easy, he had to think about what his family wanted, what he wanted, and how to make it work. In the end, he decided to just do what was best for him.
"When I first brought up that I was interested in the military, my family thought I would grow out of it," Moua said. "My mom cried the night I left for MEPS to go and enlist, my dad hasn't showed any emotion yet, I'm counting on it that he will burst into tears when I step on the bus to leave."
Being apart of the military wasn't his first choice. He had looked into many different career paths that he could have gone down.
"Before I enlisted I wanted to become either a doctor of some sort, a engineer, or work with the Department of Natural Resources," Moua said, "But, I felt that going back to school just wasn't my thing."
He also stated that if he were to get out of the military he would want to go into the trades and work as a carpenter, or do something similar that he is doing in the Marine Corps.
A lot of the influence came from family members who have experience in the military.
During the Vietnam war many Hmong people either worked, or fought alongside the American Army during "secret war" in Laos. After the war, some Hmong people were offered asylum in the United States and were resettled primarily in California, Minnesota and Wisconsin.  Approximately 5% of Wauwatosa West students are of Hmong ancestry.
"My grandfathers fought alongside the American troops during the Vietnam War," Cheenu said, "I have multiple aunts, uncles, and cousins that are currently serving in the military as of right now."
Moua is very confident that he will do just as good as his family members. The Marine Corps may frighten some people, but that's okay.
"We are told that it's okay to be scared," Moua said. "Because being scared keeps you on edge and on alert."
Moua is set to go off to bootcamp after graduation, and he is certain he's ready for it.
"I always knew that it was my goal to become a Marine, at some point," Moua said,"I will always believe I made the right decision."