Former West Associate Principal Named Future Whitman Principal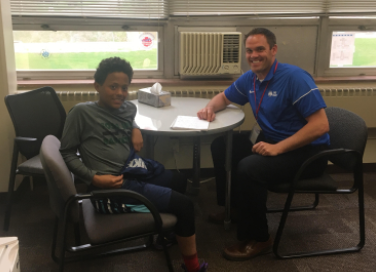 Wauwatosa West Associate Principal Clint Grochowski will become the Principal at Whitman Middle school next year.
"I am excited about having the opportunity to continue the tradition of success that's at Whitman while carrying out my own vision to make it better and also meshing the entire systems of schools on the west side of Wauwatosa," said Associate Principal of Whitman middle school Clint Grochowski.
Earlier this school year Grochowski left his position as associate principal at West to replace former Whitman Associate Principal Mr. Kellerman. Now with the current Whitman Principle Jeff Keranen retiring next year Grochowski will become the new principal at Whitman starting next school year.
"It's funny because 10 years ago at this time if you would have told me I was going to be a principle of a building I wouldn't have believed you. When I came to Wauwatosa my goal was just to help students be successful every day and I really wasn't planning on being a principal," said Grochowski.
Mr Grochowski has been at Whitman since the middle of February this school year.
"It's been great. The staff has been very welcoming my job responsibilities are fairly similar to what they were at west. So it's been a smooth transition," said Grochowski.
Students and staff at West will miss Grochowski but they are also happy for him. 
"I know he will do a fantastic job at Whitman, and I know the kids over there will enjoy him as well. I hope this opportunity enhances his career even further," said West student Olivia Keenan.