Wauwatosa West APPSE Team Competes In National Civics Competition
Thirty American Public Policy Special Emphasis or "APPSE" students and six advisors will travel to Washington D.C. to compete against other high school teams from around the country in the Center for Civic Education "We The People" program competition on April 26th.
Four other participating schools competed in a statewide competition in January in Madison. Wauwatosa East and Wauwatosa West are the two Wisconsin schools competing in the National Competition.  This is the eleventh consecutive time the Tosa West team has competed in the national competition.
"It would be pretty crazy to win nationals, but I dont think thats very realistic" said Tosa West Junior and APPSE student Michael Dettlaff.  "Our goal is to make the top ten which has only happened once in the history of West's APPSE class".
American Public Policy Special Emphasis or "APPSE" is a single section of the required 11th grade civics class American Public Policy. The class teaches government and civics, but the main activity is preparing for and competing against other schools in the simulated congressional hearing.
The class is broken up into 6 units. Each unit prepares a response to a topic question. Students present their prepared response and then field questions from experts, policy makers and politicians.
"There is a lot of expectation for our class to do well in nationals, and since we only have like 20 minutes of actual presentations per unit, there is a lot of pressure to do well in such a short amount of time." said Tosa West Junior and APPSE student Olivia Keenan.
Along with studying and preparing the questions and presentations, students will have time to tour the national capital and explore the history of Washington D.C.
"Our class has gotten really close to one another throughout the year, so I am very excited to travel with all of them" said Olivia Keenan.
APPSE students encourage incoming juniors to consider taking the course. "You don't have to know government well. I didn't know anything about government. But I took the class and now I am no longer ignorant when it comes to politics" says Olivia Keenan.
APPSE is not only knowing government policies, it also "helps with group cooperation, public speaking, articulating intelligent answers on the spot, and looking at more than one perspective when it comes to philosophy and policy" says Michael Dettlaff.
Students in APPSE have worked hard all year for this competition and hope that their work will pay off in D.C. The Team will depart for D.C. on Thursday April 26th and return on May 2nd.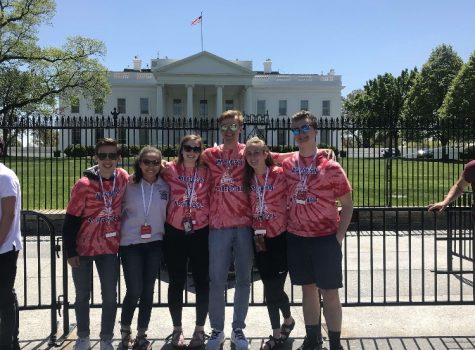 Leave a Comment
Donate to The Tosa Compass
The Tosa Compass is the only dedicated Wauwatosa newspaper, providing quality news coverage. Your donation will support the student journalists of Wauwatosa East and West, helping us purchase equipment and cover our annual website hosting costs.