Backstage on High School Musical Jr.
From a silent stage enters a single boy, clad in Tosa West marching apparel, a drum strapped to his back, shouting a battle cry sure to strike fear in the hearts of all divisional highschool sports teams: "Come on Wildcats!"
The unmistakable cheer of East High originates from its much loved roots, High School Musical. This Disney channel original movie, often considered one of the most popular movies of the early 2000s, tells the story of Troy, a basketball bro with his head in the game, and Gabriella, the kind and clever new girl who wins his heart. The sappy, cliche-heavy love story is revived in the junior on stage adaptation, with Wauwatosa's very own Whitman and Montessori students stepping into the roles. Premiering last week, May 4th, and running Thursday and Friday, the show proved to be an unforgettable experience.
 The spring musical has been in the works for some time now, with rehearsals beginning in March. Throughout their short season, a cast of fifty-two young thespians have put in countless hours discovering the ups (and downs) of theater. But Evan Hryniewicki, the Whitman 8th grader playing Troy, has been preparing long before. From learning to spin a basketball in February to nailling the lead almost two months later, Evan holds himself to high standards. But he believes his work has paid off. "I'm pumped," the 8th grader says, when asked about his feelings on the upcoming performance. "Go Wildcats!".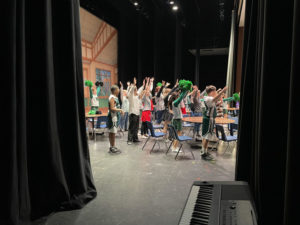 Many other Players expressed their zeal. "I'm gonna shred the nar, and we're gonna get this show, and it's my last one, so awesome." Comments excited eighth grader Brett Burgoyne. He faithfully portrays the role of Chad, Troy's best friend and basketball superstar. But even a dedicated actor isn't without a few jitters. "[I'm] nervous, probably [about] the first lines I have." Brett opens the performance, dressed in a Tosa West band getup. As a percussionist himself, he enjoys a bit of pre-high school marching experience. 
In fact, Tosa West is honored often within the show. As to not disparage the school's community, the classic High School Musical color palette has switched from red to green, and 'East' is opted out in favor of 'West''. Though the decision is potentially controversial to Wildcats superfans, Charlie Hannan, a sophomore who co-ran the show's sound, found it 'genius'. "I know I've talked to a lot of my friends, and convinced them to come, and the convincing thing is the color change and the change from East to West." 
Nai Roux, Hannan's associate, agreed. "It does sell it, yeah."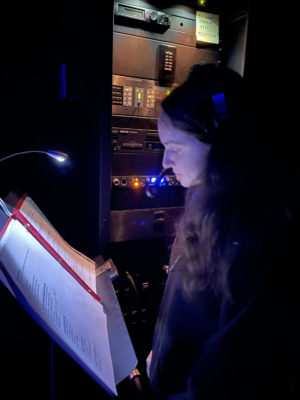 "Just a creative take like we did with Seussical, like 80s themes and a different stage style. I think it's great to experiment and do things differently. I think that's what they did here. And it's drawing a lot of more people than it probably would have normally done. Just [by] having a different approach on it." said Hannan. 
But how do the Trojan Players feel about sharing their stage with the middle schoolers? This question has been considered often, as it only seems reasonable for high school students to worry about maturity in a professional theater setting. Stages and equipment are undoubtedly fragile, and capable shows can turn to disaster on the dime. Though Stella Holz's "They don't know what they're doing" elicited plenty of laughter from the Players, the group have saved their worries, and focused more on the crucial experience they hope to provide to the youngsters. " Sharing a stage with them is fantastic because it's nice to give people who might not get an outlet to theater, or something that they like a bigger shot at it, since there really isn't a place at [the middle school] to have an effective show," said Hannan, a Whitman alum. "So letting them our space to give people who wouldn't be as interested in sports or needs a place to be that fits them better. I just feel really good about giving them a bigger space with more possibilities." 
"They're also a lot of fun to watch, because they really enjoy being in our theater, because they're not used to being in such a big place and they like being around a theater that's so well known." added Roux.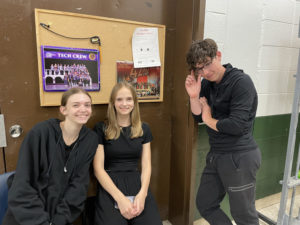 The talented group of Wauwatosa West students running the show were able to work all over the stage, from the top of the house, to in the wings. Some, such as the Stage Right and Left managers, worked closely with the Whitman-Montessori run crew, first handedly teaching them the techniques of backstage theater. But no matter where they were stationed, (or how many children they oversaw) everyone had a favorite part. With aspects like bouncing basketballs on beat, the maliciously gorgeous Sharpay and Ryan, and Brett Burgoyne's worm offstage, High School Musical Jr. delighted and impressed the middle and high schoolers alike. Of course, the Tosa West techs couldn't leave each other out! "My favorite part- is fly." Announced Roux. Lia Fuerst, the sophomore fly captain, returned the compliment. "My favorite part- is sound." And poor Sophie Basaj, on lights, was left out, until Holz remembered: "my favorite part," she laughed, "is lighting."
The Tosa West Trojan players are dedicated to creating an environment for young up and coming thespians to grow and thrive. They are excited for the talented cast of eighth graders to join them next year, when Tosa West performs Broadway's "Frozen". 
While High School Musical Jr has concluded, the Whitman and Montessori Players will be performing "Alice in Wonderland" this fall, and "The Adams Family" next spring.