Tosa West Celebrates German American Heritage Month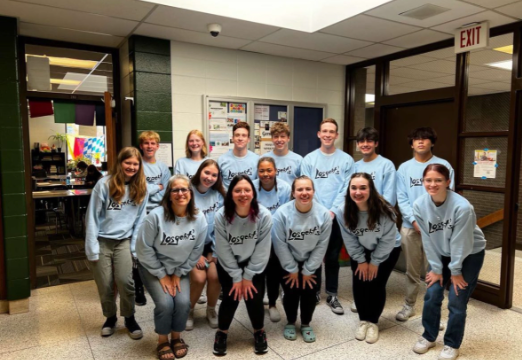 Wauwatosa West has concluded German American Heritage month. West has celebrated October with activities organized by German teacher Karin Awve. It was meant to highlight all the German-Americans who have contributed greatly to our society in more ways than the average person would realize, as well as highlight people on German culture. The building of churches, the easter bunny, heinz ketchup, santa, and even Levi's, are all thanks to German people and German-Americans. 
A table was set up at both lunches and was run by the school's German students, offering prizes for students who were able to complete various German games. A cardboard cut out was set up next to the stand which gave students the opportunity to take photos with their face in traditional German clothing.
"Milwaukee and Wisconsin enjoy a strong connection to germany. Many Immigrants, including my grandparents, settled here in the late 1800's and early 1900's." Said German teacher Karin Awve, "40% of Wisconsinites claim German heritage. There are so many German-Americans who made their mark on the city and the state, like Frederick Miller." 
German American Heritage month, celebrated in October, is a celebration of those living in America who have total or partial German ancestry and the traditions they have brought with them. This month was proclaimed by president Ronald Reagan in October of 1987, and was created to celebrate the german families who settled into germantown pennsylvania in october 1683. At Wauwatosa West this celebration was limited to a week, but that didn't stop the festivities. 
"I have German heritage, although it isn't something that plays a huge role in my life." Said Wauwatosa West Logan Espinosa, an AP German student. "A lot of my learning is done through culture days in class, and I celebrated heritage month by playing German games and participating in German club activities."
German students at Wauwatosa West engage in a monthly "culture day", where Frau Awve finds ways to relate what is happening in the world around us, and turn it into an educational experience. These culture days consist of fun German games such as ligretto, a vocabulary blooket, German snacks, German TV shows, and German music. Although every day the German students are learning about the culture, these days dedicated to just culture is an educational and engaging way of learning. 
"Culture days have helped me to understand a lot about their system of government, ways they celebrate holidays vs. how we celebrate holidays, and their differences in children's stories." Said AP German student Camille Socol. 
The celebrations that took place at lunch the past week helped to highlight the work that German students do on a daily basis, and spread the German culture we see in our everyday lives without even realizing it. German culture plays a big role in many students' lives, and the lunchtime celebrations was an engaging way to educate students on the world around them. 
"German culture is all around you. Take a moment to experience it and compare it to your own culture. See how you connect and explore that connection, be curious and open about all cultures." Said Karin Awve.