Tosa West Ceramics Sculpts Creative Minds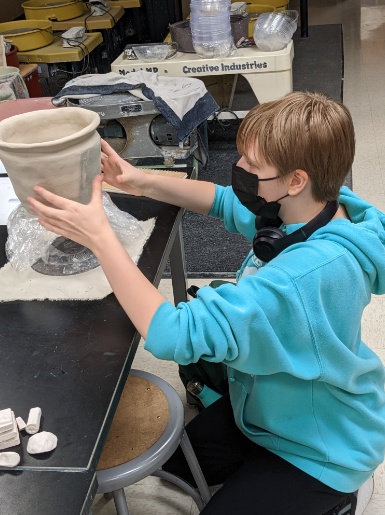 Pinch pots, glazing, firing, coils, and air pockets are all terms you learn in Wauwatosa West popular 1 semester Ceramics class that is finally getting into full swing as the year advances quickly.
Sophomore Brooke Strand is currently enrolled in the ceramics class at Wauwatosa West comments on their experience in the class thus far.
"It's a calming and relaxing class…a more quiet place to unwind. A great way to end the day." said Strand.
Students from all grade levels are enrolled in the class, interested in creating intricate pieces with clay and glazing them, being able to take them home as a token of their work once they are done. 
Multiple projects may be in progress consecutively, however the guidelines and support are plenty to keep the class going at a manageable pace. Students are encouraged to work their hardest, testing with different colors, textures, and materials.
Art Teacher Selena Marris recommends the class to anyone who is hesitant for next year. It is a good choice for anyone wishing to express their creativity through a medium other than paper and pencil.
"If they're nervous because they haven't taken an art class before, of all our art classes this is one of the ones that is so hands-on and supported, and there are guidelines to keep you on track." Marris said.
The class and its teacher alike are looking forward to a great semester of construction and creation.