10 Questions with Former Principal Ebony Grice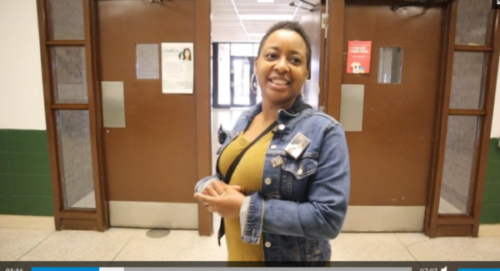 Lehman: Hi Ms. Grice. How are you?
Grice: Hi guys, I'm great. Happy Friday.
Lehman: Can we ask you some questions?
Grice: Of course.
Lehman: Who is your hero/idol? 
Grice: Oh, my hero slash idol, Oprah Winfrey. I think her story is so awesome. And she's such a motivator and she's all about giving back to others and inspiring other people. And that's what I'm all about. So that's what like that's my job as a leader is to inspire other people. So she's my my my Shero.
Lehman: What are you going to miss the most and the least about West?
Grice: Well, there's two students who are recording me. And so that speaks to the love that I have for my students. And I think the love that many of them have for me, and so I'm going to miss that deeply. It was really a sad moment when I cleaned out my office and had all these notes from kids and from students and from families. And so it just was a reminder of the love that I have for West, and West students and families.
Lehman: What is your biggest accomplishments? 
Grice: Oh, biggest accomplishment? Let's see here. Biggest accomplishment? 19 years in education, I will say this is my 19th year in education. So I would say my biggest accomplishment is being able to serve families and able to give hope to other people to know that you can overcome anything you can do whatever you want. And so I think that's my biggest, my biggest accomplishment. And I think that doing even my work here in West, being able to just inspire people to rise to do whatever you want.
Grice: Yeah, that's my biggest accomplishment. I would say, in career in my profession. I would say 
Lehman: If you go back in time, what would you do differently in high school?
Grice: Oh, I would take more hands-on classes. I would get more involved in sports. I would get more involved in clubs and communities. I did really well in school. I worked though, so I didn't really get a chance to do more of the other activities that students were doing. So I would definitely go back and do that and I would probably take a couple more advanced classes. That's what I would do.
Lehman: What was the best and worst class you took in high school? 
Grice: Oh boy. So I have to say all the social studies teachers are not going to be happy. And science teachers, sorry. Anything sciences, social studies weren't interesting to me, so I struggle when learning is interesting or engaging. And my favorite subjects were reading and math and so anything science or social studies, sorry.
Lehman: Favorite movie and why? 
Grice: Oh boy. Favorite Movie? I don't have a favorite movie. I have a tough time sitting through movies.But I have favorite shows. Cosby Show was a favorite show of mine. I've been watching it since I was five I, still watch it pretty much every day. It's kind of a call to the end of a crazy day. And so I watch every day even though I know all the answers that all the what they're gonna say on each episode.
Lehman: What motivated you to resign from your position as principal?
Grice: That took a lot of thought. It wasn't an easy decision as you can imagine because I do love Wauwatosa and my time here. Even before being principal here, I had worked here before in the district in a different capacity and so I'm really excited about my new job. My new job will be with the Department of Public Instruction. And I'm going to serve as the director of the Wisconsin education opportunity programs. And what that does is help students become college and career ready, from sixth grade to 12th grade so that they can go to college. So although I'm leaving my wonderful family of students here and staff here, I get to go and then serve in even a greater purpose for the entire state of Wisconsin, so I'm really excited about that.
Lehman: Word of advice for your successor?
Grice: Oh, I think it's important to build relationships. I always say that. You have to build relationships. And I do think that's why, as I said when I was cleaning out my office, the notes from students, the notes from families, you are reaching out to me is…is in a humble in a very humble way. I'm saying that it's really important to make relationships with folks so that people know that you care about them and not just in their academics because that's important too, but that you care about them as human beings and as people and I think if you start there that you can do pretty much anything.
Lehman: What's next for you?
Grice: My new role is next for me, but it's different. So I have-I have spent 19 years walking into a school building. So I have a little anxiety about what that will be like to operate within education from a different lens. And so what's next for me is to figure out what life looks like not being around students all day and teachers and families all day. So it's getting adjusted to that. But my new role does allow me to get into schools because it's for the entire state and so I'll make sure that I'm connected. But my next mat what's next for me is to just figure out where even do I go from here within my new row. And really honestly, my daughter's in college. And so what does that life look like? That type of thing. 
Lehman: And lastly, any parting words? 
Grice: Oh gosh for sure. Any parting words for sure. So, I would say that to my students who I love dearly, who I care about so much. Our time together has been short, but the time that we have had together was literally through a pandemic. So all we knew was to come together, to support each other, to be there for each other, to have grace, to have empathy. And even if you think about our last school year, we had just a lot of, you know, tragedy and things that happen but we banded together and we didn't even know each other. And so my last parting words are just thank you to our students who have basically held me up and held me together and who give me a reason every day to show up and give me a reason every day to-to be my best self and to be my best leader. And I will say to-to staff for just allowing me to lead them and allowing me to be the at the helm of all of the things that we went through and for them trusting me to do that and allowing me to inspire them whenever that opportunity became available. So my parting words are just thank you. I'm so gracious. I'm so humble. And I will never forget this experience of my 19 years it has been my best. So thank you guys. 
Lehman: Thank you so much. 
Grice: Thanks, guys.