Wauwatosa West Staff Favorite Holiday Cookie Recipies
Gingersnaps (Ms. Chang)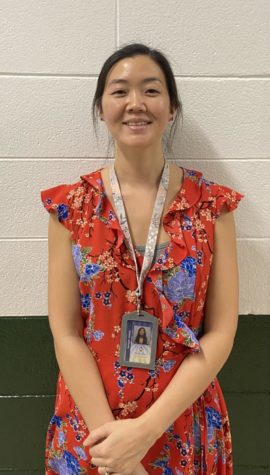 Ms. Chang's parents are from Taiwan and their culture does not utilize conventional ovens. She grew up eating cakes and buns steamed on a stove so cookies were never a part of her family traditions. However when Ms. Chang went off to college, she decided to learn something new. "I decided in college that I would learn to bake by watching shows and reading recipes," she said. Particularly, she loves this gingersnap recipe because it is straightforward and "isn't too fussy." She also really enjoys the chewy texture and the ability to variate the amount of spice depending on personal preference. These gingersnaps are legendary among Ms. Chang's orchestra students as she often brings them in to share. Through experimentation, Ms. Chang has also made these cookies available to all of her students, even ones with dietary restrictions. "Gingersnaps are also easy to make in vegan form, and their texture and taste are basically identical. I've had my husband blind taste test both and he can't tell the difference."

One stick of butter (softened at room temperature)
1 cup brown sugar (gently packed)
1/4 cup molasses
1 egg (room temperature)
2 cups flour
2 teaspoons baking soda
Spices (powdered ginger, cinnamon, allspice, nutmeg)
1/2 cup white sugar
Cream together the butter and brown sugar, then mix in molasses and egg. Mix flour, baking soda, and spices together (spices to taste), then add that to the first mixture. Roll into a ball, dip in the white sugar, then put on a cookie sheet. Leave space between the dough, because they will spread out. Slightly flatten the ball of dough with your hand. Bake at 350 degrees for 8 minutes (more if you roll out larger amounts of dough). Cookies should appear crinkled. 
Kourabiedes (Mrs. Leupold)

Pronounced koo-rum-bee-ed-des, this cookie recipe comes from the Greek side of Mrs. Leupold's family. These cookies are most frequently made around Christmas time but involve a very intensive process. "I have never attempted to make these cookies solo (I've always helped my grandma) before so I don't have many tips or tricks other than to be very patient," she said. The recipe provided by Mrs. Leupold is just a general explanation of the baking process because she says her family never makes them with true precision. "The recipe is a general guideline of what to do because most of the recipes on my Greek side of the family don't have actual measurements, you just do everything by taste which makes a lot of the baking a long "trial and error" process," she explained. Even though the process can be a lot to take on, Mrs. Leupold describes these cookies as being "delicious" and "buttery": a perfect treat for the holiday season!
1 lb of unsalted butter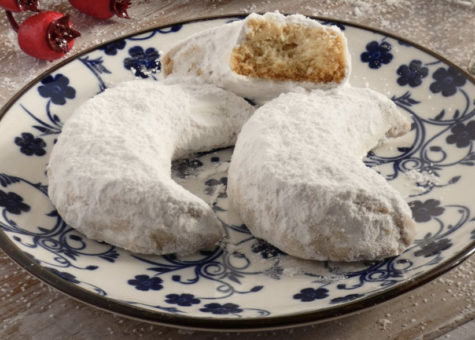 1/2 cup to 3/4 cup of powdered sugar
2 egg yolks at room temperature
1/8 cup of Mystica Greek Liquor
4 cups of sifted flour (2 cups of cake flour + 2 cups of all purpose flour)
Pinch of salt
1 teaspoon of vanilla extract
Melt butter in a saucepan and refrigerate. When cold, remove residue. Let sit at room temperature to soften and then beat with an electric mixer until the butter is fluffy and white. Next add powdered sugar then the egg yolks and vanilla. Fold in the flour being careful not to add too much. Mix until you can mold the dough. Put on a cookie sheet and bake at 325° for 10-15 minutes. When done, sprinkle with powdered sugar while still hot. 
If you are up for a challenge, these cookies are for you! The dough is chilled three separate times before rolling them up into the signature pinwheel pattern. Similar to Mrs. Leupold, Mrs. Schoemann has never attacked this family recipe herself, but it remains one of her favorites. "I have never actually made these (maybe someday!), but they were a favorite of mine growing up," she explained. "My mom and my grandma were much better bakers than myself, and they always made them," she continued.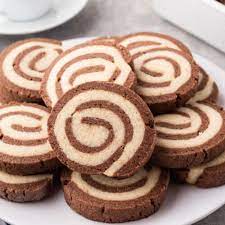 3 cups of all purpose flour
1/2 teaspoon of baking powder
1/2 teaspoon of salt
1 cup unsalted butter, room temperature
1 1/3 cups sugar
2 large eggs
2 teaspoons vanilla extract
2 ounces unsweetened chocolate, finely chopped
In a large bowl, sift together flour, baking powder and salt and set aside. Then use an electric mixer to beat the butter until light and fluffy. Add the sugar to the butter and continue to beat. Add in the eggs, one at a a time, and the vanilla. Then add the flour mixture to the butter mixture and beat on low until combined. When combined, take the dough out and divide it in half. Take one half of the dough and wrap it in plastic wrap. Return the other half of the dough to the mixing bowl and add in the melted chocolate, mixing until combined. Then wrap the chocolate dough in plastic wrap and place both squares of dough into the refrigerator for 3o minutes. After the 30 minutes, cut each dough square into four even strips. Roll out one strip of vanilla dough between two sheets of parchment paper, into a roughly 6-by-7 inch rectangle. Repeat with a strip of the chocolate dough. Peel off the top sheet of parchment paper from each dough and flip the vanilla dough over onto the chocolate dough. Trim excess dough into a rectangle and run a rolling pin lightly over the dough to ensure they stick together. Peel off the top sheet of parchment paper, then roll the dough into a log. Wrap in plastic wrap and refrigerate. Repeat with remaining strips of dough to form 4 logs. Refrigerate the logs for 1 hour, then remove and transfer to the freezer for 2 hours. Preheat oven to 350° and line a baking sheet with parchment paper. Slice dough logs into 1/4 inch thick slices and place on baking sheet. Bake for 9-11 minutes or until the vanilla dough is slightly golden. Cool the cookies on a wire rack.
Flour-less Peanut Butter Cookies (Mr. Molitor)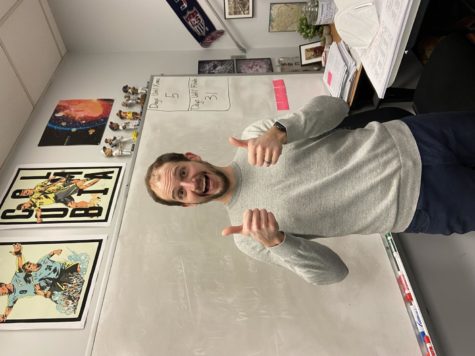 Not feeling the labor intensive cookies from Mrs. Schoemann and Mrs. Leupold? Well then Mr. Molitor is here to help! These cookies have just three ingredients and contain no flour, perfect for anybody in need of a gluten free option. When asked why he loves these cookies, Mr. Molitor simply replied, "because they are magical." With easy to find ingredients, minimal assembly required, and a short baking time, these cookies are the perfect thing to whip up for that holiday party you may or may not have remembered!
1 egg at room temperature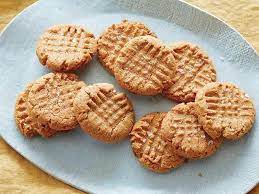 1 cup of creamy peanut butter
1 cup of sugar
Heat oven to 350°. Mix all of the ingredients together. Scoop out dough with a spoon, roll into a ball, and flatten on a baking sheet with a fork. Bake for 11 minutes or until lightly brown. That's it!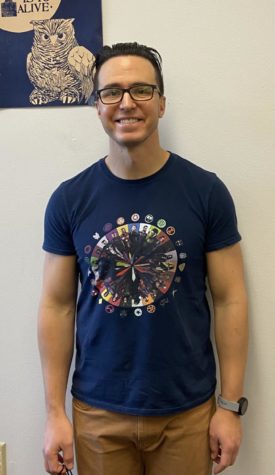 Pizzelles are a classic Italian cookie often made around the holiday season. Mr. Koepke's wife comes from a long line of Italians with extravagant recipes. "My wife's family is extremely Italian; we're talking original pizza dough recipe that Ballistrari's Restaurants use, homemade pasta-meatballs-sauce.  Bread and olive oil everywhere. One of the huge traditions they do around the Holiday season is homemade pizzelles," he said. In fact, his wife forbade him from giving away the original family recipe but luckily he was able to find a similar one to share. These cookies require a special pizzelle press in order to make, but once completed, they can be eaten by themselves, rolled into cones for ice cream and even with various toppings. The Koepke family loves to top these cookies with strawberries and whipped cream. "We make dozens of Christmas cookies a year, but these simple, delicate cookies are always a favorite….very easy to break away and steal one or five."
Pizzelle iron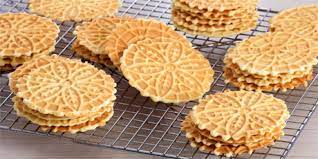 2 cups of all purpose flour
1 cup of granulated sugar
¾ cup of cooled melted butter
4 eggs
1 tablespoon of anise (black licorice flavoring) or vanilla extract
2 teaspoons of baking powder
Preheat pizzelle iron. Spray iron with nonstick cooking spray. Then in a large bowl, combine flour, sugar, butter, eggs, flavoring (anise or vanilla), and baking powder. Drop rounded tablespoons of batter onto the pizzelle iron and close. Leave dough on the iron for around 30 seconds or until golden brown. Remove pizzelle from iron and place on cooling rack. Dust with powdered sugar or add toppings if desired.
Buried Cherry Cookies (Mrs. Munoz)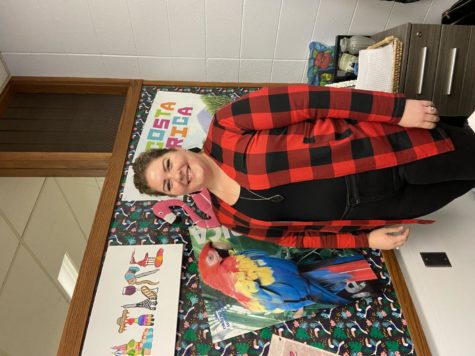 This recipe comes from the Dutch side of Mrs. Munoz's family. In the Dutch culture, many of their baked goods contain hints of pistachio, almond and cherry. "The Dutch side of my family is partial to almond and cherry, so we have many recipes that involve this flavoring," she said. Mrs. Munoz's favorite recipe being these buried cherry cookies. Though this is a modified recipe and does not truly stem from the Dutch culture, it does utilize authentic components. "This is not an authentic Dutch recipe, but it uses flavors that are important to our heritage and personal tastes," she explained. 
1/2 cup of butter at room temperature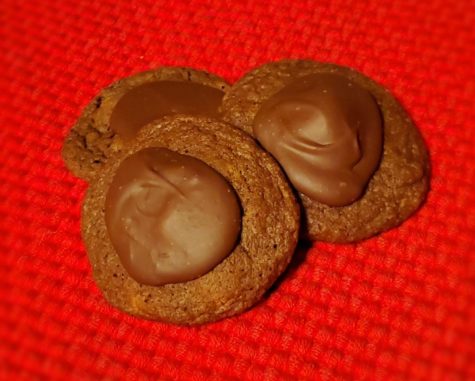 1 cup of sugar
1 egg
1 1/2 cup of flour
1/4 teaspoon of salt
1 1/2 teaspoons of vanilla extract
1/2 cup unsweetened cocoa powder
1/4 teaspoon of baking soda
1/4 teaspoon of baking powder
1 10oz jar of cherries
1 6oz package of semisweet chocolate chips
1/2 cup of sweetened condensed milk
Preheat oven to 350°. In mixer bowl beat butter until softened. Add sugar and beat until fluffy. Add egg and vanilla. Beat well. In medium bowl stir flour, cocoa powder, baking soda, baking powder and salt. Add flour mixture to butter mixture and beat well. Shape into balls on un-greased baking sheet. Bake 10-12 minutes. Place Cherry in center of each cookie and set aside. Combine chocolate chips, condensed milk and 4 teaspoons of cherry juice. Drizzle over the top.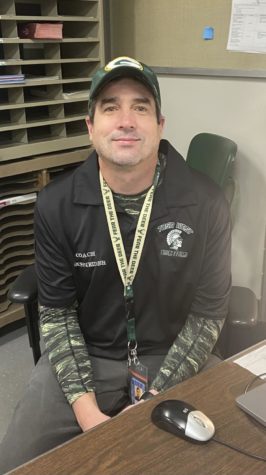 Mr. Schneider exclusively refers to these cookies as "scotchies". Unlike many of the other recipes, these cookies use butterscotch chips, rather than chocolate chips, to get a rich, warm flavor. The addition of the oatmeal provides a variation in texture and just a little bit of cinnamon helps to blend the tastes of the holiday season. Mr. Schneider cannot get enough of this recipe saying "it's one of my favs." Mr. Schneider also said he prefers to bake the cookies longer than the recipe states. He explained that the extra bake time helps to brown the edges of the cookies creating a caramelized crunch. In his years of organizing the winter running club, he often brought in these cookies to share with his dedicated runners. They just couldn't get enough of "Schneider's scotchies" and finished every last one. 
3/4 cup of softened butter
3/4 cup of white sugar
3/4 cup of packed brown sugar
2 eggs
1 teaspoon of vanilla extract
1 3/4 cups of all purpose flour
1 teaspoon of baking soda
1/2 teaspoon of ground cinnamon
1/2 teaspoon of salt
3 cups of rolled oats
1 2/3 cups of butterscotch chips
Preheat oven to 375°. Beat butter, white sugar and brown sugar in a large bowl. Add in the eggs and vanilla and continue to beat well. Stir together the flour, baking soda, cinnamon and salt. Gradually add in the flour mixture to the butter mixture and stir until blended. Stir in the oats and butterscotch chips. Drop by teaspoonfuls onto an un-greased baking sheet. Bake for 8-10 minutes, or until the edges begin to brown.