"Girls in STEM" Club Looks To Bridge the Gender Gap in STEM Related Careers
Daisy Lehman is the only girl in her AP Computer Science class.
"I walked in on the first day of school, and I was waiting for another girl, at least one other girl to come in and she didn't come," said Lehman. "And so now it's just like me and twenty other guys in there."
Lehman is not alone in her experience. Despite a history full of female scientists such as Marie Curie, Kathrine Johnson, Ada Lovelace, and Rachel Carson, women continue to be underrepresented in STEM fields.  
The roots of this current inequality trace back to early education and the lack of support for girls who may be interested in pursuing STEM careers. After the observance of a similar situation at West, the "Girls in STEM" club was founded.
Founded in second semester of the 2019-2020 school year, Girls in STEM invites all female and non-binary students to participate in activities and learn about the many possibilities available to them in the world of STEM.
"It provides a good opportunity to talk to other people who are interested in the same things that you are in a casual environment," said Tosa West Senior and student leader of Girls in STEM, Rebecca Henzig. "Since we're so small, I think that's actually positive for us because we can do more with each other rather than have a big meeting where you might not be able to participate as actively."
Each meeting gives members a chance to learn about different STEM fields and get hands- on practice.
"(The club offers a) variety of activities that go through all of the different STEM fields so everybody can see where STEM could take them in the future," said Tosa West Math and Computer Science teacher Amy Fetherston.
The goal is to offer support to high school age students who may not see themselves represented in STEM related careers.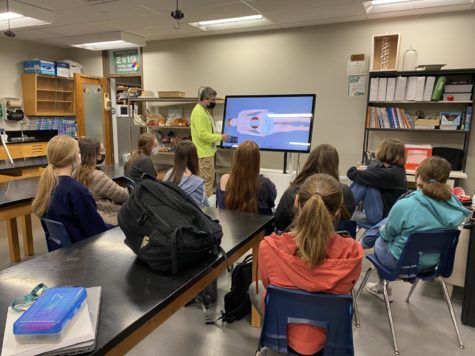 "My hope is that we can encourage as many girls as possible to join to get exposure to STEM related fields," said Fetherson.
Clubs that offer girls the space to learn without any added pressures are helping to assist the growth of the number of women pursuing careers in STEM.
"I think a girls in STEM club is one environment where girls can come and feel safe, asking questions and feel safe trying things that they may not try in a regular large classroom," said Fetherston. "Hopefully just providing experiences that girls don't get in the regular classroom as a way to pique their curiosity."
In the few meetings before school shut down due to COVID-19, the club's founders, who have now graduated, were pursuing their goal of educating those interested in possible careers in STEM. One of the people they reached out to was math teacher Jeanine Berggruen.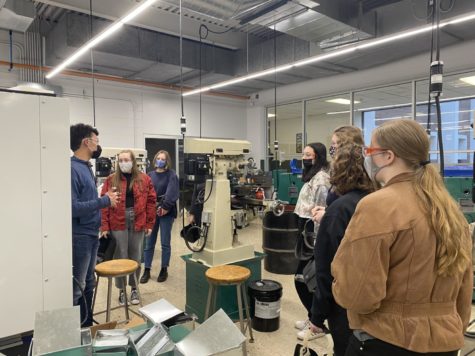 "I think (girls) just need the confidence. And also to know that there are people out there that will support them," said Berggruen. 
She worked as an engineer before becoming a teacher and observed first hand the lack of women in the workforce. Now her classroom is covered in posters of women scientists, mathematicians, and engineers. 
"Those women are like my heroes. I mean, they just persevered. They kept pushing," said Berggruen.
She hopes that her students and those involved in Girls in STEM will learn from the successes of these women.
"There's nothing out there that says that you can't do the math and you can't do the science," said Berggruen, "Women are just as capable as men at excelling in the subjects."