80% of WSD Staff Are Now Vaccinated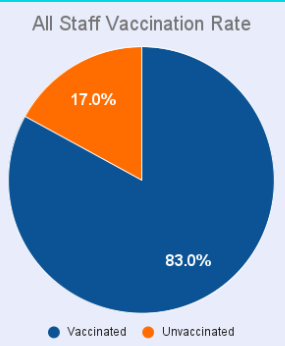 A report done at the last school board meeting on September 13th showed that 83% of staff have reported getting both doses of the vaccine. The remaining 17% have not been vaccinated, or just haven't yet entered their vaccination status, the report continued. 
"We have asked that staff report their first or second dose. That's all we ask for at the time, just the self report. It is completely voluntary. We have not mandated, we have strongly encouraged staff to share so we can get an accurate count" said Jennifer Fotsch, Director of Human Resources at the Wauwatosa School District. 
Fotsch was confident with the current staff and faculty vaccination numbers, but shared the District's target goal percentage for the future. 
"Our ultimate goal is 100% employee vaccination. We do recognize that some employees may have a religious exemption, or are medically unable to receive the vaccination, but we do encourage the vaccination if possible" she continued. 
Fotsch even shared possible future incentives to encourage becoming vaccinated. These incentives would need to pass board approval before they could even consider being implemented, however, Fotsch seemed to think that it would be a step in the right direction. 
"We are exploring with our legal counsel and our benefit consultants the possibility of using a wellness surcharge on insurance premium to encourage people to get vaccinated if they haven't already. We think this would promote some positive wellness behaviors".
Despite future incentives, Fotsch was very pleased with the current vaccination numbers, the ones that don't have any incentives attached, and seemed to be optimistic about the future of vaccinated staff and faculty in Wauwatosa School District buildings. 
"Slowly, steadily, we are getting towards that goal of everyone (all staff and faculty) being vaccinated. It's really, really encouraging to see this completely voluntary participation amongst our staff members".