The Wauwatosa School Board approves COVID-19 re-entry plan for 2021-2022 school year
The Wauwatosa School Board approved the 2021-2022 school year COVID-19 re-entry plan following debate and public comment during a three and a half hour school board meeting on August 9th. A 7-0 unanimous vote approved the plan. The Wauwatosa School District will now adopt the COVID-19 mitigation measures outlined in the plan.
Superintendent Demond Means presented the re-entry plan to the school board. The plan describes 5 different levels. Each level uses the infection rate based on the percentage of students with a newly reported confirmed infection within a 7-day period and the community infection rate. Each requires different levels of mitigation strategies such as mask wearing, student cohorting, travel patterns, physical distancing and instruction modes.
The baseline for mitigation had been set by the district at Level Three, which requires students to wear masks indoors regardless of vaccination status, but will remain in an in-person five-day-a-week learning model.
According to an email sent on August 10th, the school district will be determining the level for school reopening at the next school board meeting.
"Following the Medical Advisory Committee meeting, District Administration will consider the additional metrics and provide a recommendation to the School Board at the meeting scheduled for Monday, August 23, 2021 at 7 pm. Following this School Board meeting, we will communicate the mitigation level for the start of the 2021-22 school year. "
The re-entry plan also highlights that Covid-19 conditions have significantly changed from June 2021 to now. The plan states that, "A pivot in mindset is necessary for our educational community."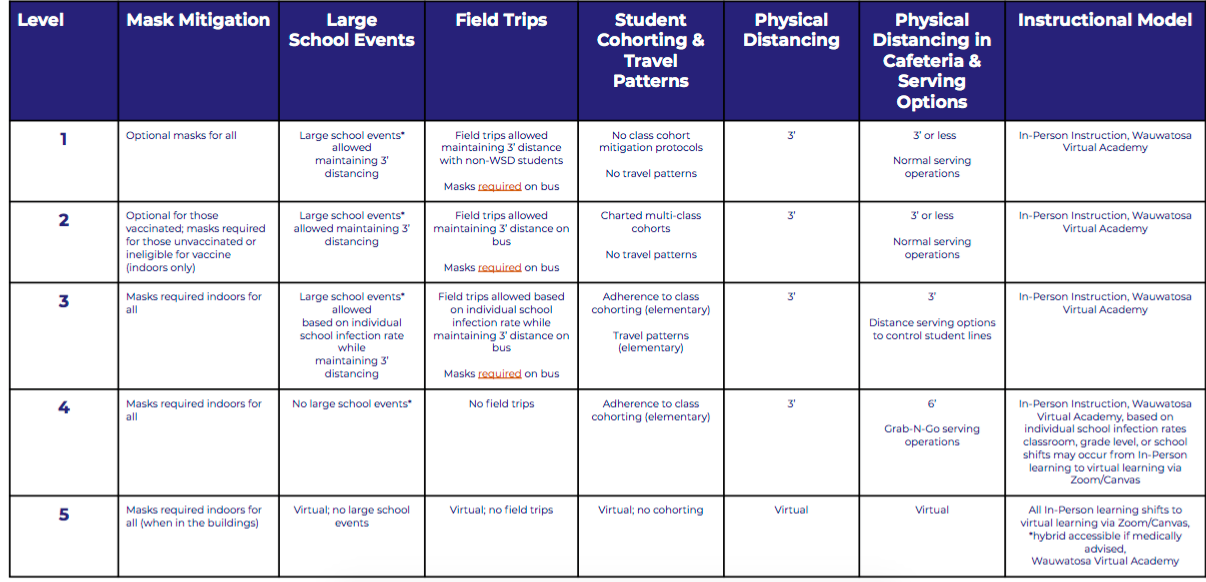 For more information, see the 2021-2022 school year COVID-19 re-entry plan.
A video of the school board meeting is here.