First Concerts of the Year Mark Slow Return to Normal
The past two weeks have been very important ones in the Tosa East music department. Both the orchestra, led by director Mr. Michael Hayden, and band, led by director Ms. Jennifer Lato, had their first in person concerts of the year.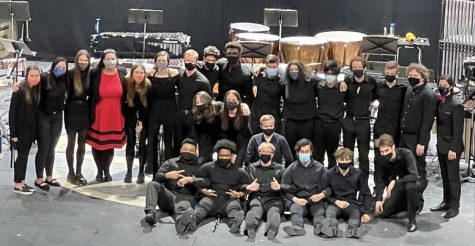 COVID-19 has been a hard hit for the music departments this year, with hybrid learning initially for the first six months of the school year, and half of the students divided up, both band and orchestra had little opportunity to play together as a large group. 
The Tosa East band recently had their first in-person concert of the year on Thursday, the 13th. Senior Ana Michaelson's favorite song this year was Turtle Dove, which the entire band played as a whole group to commemorate and say farewell to the senior class. 
When asked how COVID affected her year in band as a student, senior Lauren Underburg comments, "The biggest difference is probably just trying to stay six feet apart the whole time. We moved to the theater so we can stay apart but it definitely affected how we play, because if you listened to an instrument on the other side of the room you would fall behind."
What was most disappointing for many band members was the lack of a marching season. Michaelson says, "With COVID we didn't have a marching season and that was disappointing for us as seniors, but we managed to still make it a fun year with a parent marching band performance."
The Tosa East marching band usually competes annually and participates in school led events like the homecoming parade, all of which were cut this year.
In preparation for any concert, the class will prepare a set amount of songs and practice and perfect each piece for the live performance, however this year being virtual has affected the usual process. In the beginning of the year, the band students would record all of their concerts, so musicians could take as many tries as they needed to get the perfect take.
In regards to the first in person concert this year, Underburg says: "For this concert we're definitely a bit more stressed because we had a few parents in the audience so we didn't have the comfort of being able to re record." Although the class of 2021 had a very different senior year than most high schoolers, the students are making the most out of their year.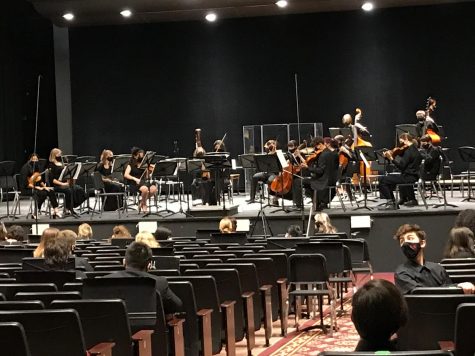 Tosa East's orchestra had their first in-person concert on Wednesday the 19th. The orchestra looked forward to their first and last orchestra concert in person.
"The most exciting part of getting to perform again in-person is really being able to play music together as a group and have that shared, real-time, with others," says orchestra director Michael Hayden.
This year has been the first official year of the new chamber orchestra, a thirty person, audition based orchestra.
The concert featured various pieces performed by the concert orchestra, symphony orchestra, fiddle ensemble, and chamber orchestra. Andante Festivo, Russian Sailor's Dance, Serenade for Strings, and Don't Stop Believin' are some of the featured pieces most looked forward to.
When asked about the selection process of choosing the pieces for the concert, Hayden states, "I really wanted to find music that would be enjoyable to learn, to play, and showcase the incredible musicians at Tosa East."
Similar to band, the transition from hybrid playing to full group was a little rough, says senior Anna Lowe. "The transition from hybrid to fully in person was definitely weird. Our separate cohorts had formed strong bonds and understandings of each other so at first it was difficult to play together and really feel a strong connection."
However, the two cohorts bonded quickly and began to work together to create music. "It didn't take long though to dive into this new group together and now I can't imagine ever going back. Everyone is so dedicated in chamber and I am so proud of what we have prepared for the concert." (Lowe)
Not only has the constantly changing education plan affected the students, but it's also had an impact on the teachers. "This year has had so many changes and pivots that it has really taught me to be flexible and to strive to find the best music for the group that is in class (or online) at that moment." says Mr. Hayden.
Similar to band, the first orchestra concert of the year was filmed individually and pasted together to form a virtual large group orchestra. As successful as the virtual orchestra concert was, it will be no where close to the authenticity of an in-person concert. 
Many seniors from both band and orchestra participated in their first concert of the year, and last concert as a high schooler at Wauwatosa East. When asked what they will miss the most from their experience being part of the music programs at East many commented on the friendships and community formed through their involvement in the programs.
Senior Beatrice Lazarski says, "I will miss the people in the orchestra. For most of us, it is the same group of kids from sixth grade orchestra with Ms. Melius, so everyone knows each other pretty well, and are quite the gang."
Senior Lauren Underburg agrees, stating "I will definitely miss all of the people I met in band. I became really close with so many amazing people and I will miss that sense of community." 
Although COVID-19 has had a large toll on the music program and Wauwatosa East, the first in person concerts this year have been one step closer to normality. Both groups faced their own challenges this year, with no marching band, and the separation of groups through cohorts, but all came together to present the best concerts they could.