Line 3; How a Pipeline Impacts Our World
One company is threatening 15,000 years of tradition.
Enbridge, a Canadian oil company, is trying to create a new pipeline going through 1,097 miles of North America with 364 miles in the United States. There are already six pipelines built in the 1960s that stretch from Alberta, Canada, to Superior Wisconsin. One of the pipelines, Line 3, has had a magnitude of structural problems. The old pipeline is not pumping through nearly as much oil as it should be, and the new line will restore it to its original capacity of 760,000 barrels a day. The plan is to install a 36-inch wide pipe instead 34-inches pipe.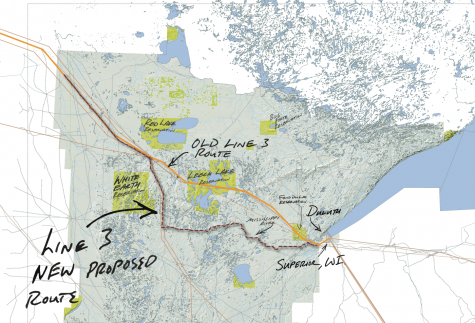 The new pipeline was first proposed in 2013. Construction in North Dakota and Wisconsin have both already been completed. Each has only 13 and 14 miles of pipeline, respectively, however Minnesota has 334 miles planned. Construction did not start until December of 2020 in Minnesota because of protests and permit delays. The plan is to bring almost a million barrels (one barrel is 42 gallons) of tar sand oil through the pipeline per day.
Tar sand oil is a mix of clay, oil, and sand that produces three times as much greenhouse gas pollution as traditional crude oil production. The oil solid is taken out of the earth by either intensive steam injection or destructive strip mining. This not only impacts the local ecosystems and people, but also contributes to global climate change.
Enbridge calls the new pipeline a 'replacement' for Line 3, but it is being built on miles of new land, and they plan on leaving the current pipeline in the ground – to corrode even further. At present the government has no laws against abandoning pipelines. The company has stated it would "handle" the pipeline. However, without any real evidence or federal or state laws to force them it seems unlikely they will take action to handle the pipeline.
The current pipeline is corroding due to its outside coating that was applied during the time installation. This is the same coating that was on the pipeline that caused one of the biggest inland oil spills in the Kalamazoo River in 2010. Between 877,000 and 1,000,000 gallons spilled from a 6-foot crack. That pipeline was also owned by Enbridge.
Enbridge says there are also 900+ anomalies, leaks, and cracks in existing pipelines. On March 3, 1991, a pipeline burst open and leaked 1.7 million gallons of oil into Prairie River, a tributary of the Mississippi – the biggest inland oil spill in America history. Fortunately, the river was still frozen or it would have poisoned the drinking water of thousands. Enbridge has spent $1.2 billion and 30 years cleaning it up. And it still isn't done.
More often than not, pipelines leak. Many, particularly first nation tribal members, are worried that the new pipeline could leak on a larger scale and flood whole lakes, wetlands, and forests. The loss of drinking water, animals, food, and ecosystems is high risk. The new Line 3 in Minnesota is proposed to go straight through the middle of Leech Lake Reservation, where 10,660 people live.
The native people on the Minnesota land, the Anishinaabeg are once again having their land taken from them with the construction of the pipeline. The Anishinaabeg, also known as the Ojibwe or Chippewa by colonizers and other tribes, use the land for hunting, fishing, and gathering. One of the most important things they are gathering is manoomin (wild rice). The pipeline is planned to go through some of their best lakes for gathering and fishing. These lakes not only generate jobs, money, and food for the tribe, they also are part of a long cultural tradition that they are trying to maintain and pass along.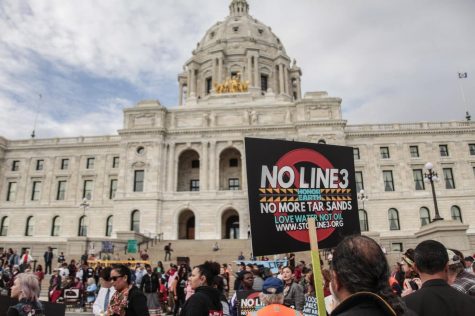 The Anishinaabeg signed 42 treaties from 1785-1867. Under those treaties the tribe sold the government their land, but was allowed to continue to live, fish, hunt, and gather on the land. The federal and state legislature has made countless laws and policies disregarding their past agreements to prevent the Anishinaabeg from actually using their land. Following a U.S. Supreme Court case in the 1980s, the government has been more conscious about giving the tribe the use of their land. However, treaty land is not the same as reservation land as it is not land that is exclusively for Indigenous people to live on. Now they are being made to share it with a dangerous pipeline.
Enbridge claims the new pipeline will be good for the community. Its website says; "[their investment] will create well-paying jobs, an economic boost for local communities during construction, and local community investments and tax contributions for many years to come." Although the construction will employ Minnesotans for around 2 years, Line 3 will only create 20 permanent jobs.
It would be better for new waves of energy to be established, instead of building up a dying, dangerous industry. There may be no stopping the construction of the new Line 3, but city commissioners can prevent the abandonment of Line 3. Check out https://www.stopline3.org/ and http://www.honorearth.org/ for more information on how you can advocate your support.