Unified Physical Education: An Inclusive Take on a Common Course
Unified Physical Education is a new class at Wauwatosa West that looks to provide all students with a more inclusive physical education experience. The class is a combination of regular education and special education students. The curriculum used provides multiple ways for students to learn physical education, social and life skills from one another.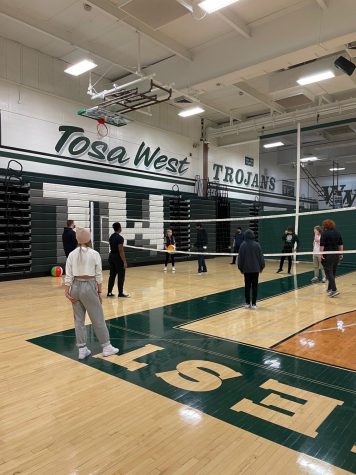 "My favorite part about this class is being able to include everyone. The mix of both regular and special ed students really helps students to open up and feel more comfortable in gym class. I feel that every student in this class has a bond with each other" expressed sophomore student participant, Jane Janiszewski.
While other physical education classes focus on developing fine motor skills through learning sports, Unified Physical Education focuses on the social connection between special education and regular education students. This inclusive class looks to integrate special education students into regular education classes.
The group and active nature of Unified Physical Education class has encouraged students to build powerful relationships with other students.
Thomas Hipke, a regular education student, pointed out the different aspects of this unique class.
"Other gym classes are focused on exercise. This class seems to have a focus on both learning how to be patient and learning how to deal with situations," said Hipke.
This class made its first debut in the fall of 2020. A trial was conducted with a freshman physical education class in the fall of 2019. The trial class focused on integrating two special education students into a class made up of regular education students. Things went just as planned and the trial class was a hit. The physical education teachers and other faculty members then worked toward making this class an option for the 2020 school year.
Wauwatosa West Physical Education teacher Christa Botsford has been teaching for twenty two years. She worked with Wauwatosa West Health teacher Nathan Chart and Special Education teacher Teri Kandel to propose the course to District Secondary Curriculum Director Dave Dentinger and District Supervisor of Special Education and Compliance Therese Kwiatkowski.
"It took a year to develop and create the course and then go to the curriculum council for the district and finally present to the school board. We knew this was a class we wanted to introduce, it was just getting the time to meet and develop a course that worked for the students in Wauwatosa." said Botsford.
After the class was approved, the physical education teachers first offered the class to the students that were a part of the trial class in 2019. Unified Physical Education is now made up of an equal blend of regular education and special education students.
"I decided to take this class because in my freshman year gym class, I became really good friends with two special ed students in my class. Everyday, we would play games together and I would help them through group games with the whole class. I loved helping them and playing with them everyday, so I just knew that this class would be a perfect fit for me." said Janiszewski.
Once the class was offered up to the students that participated in the trial, the physical education teachers then looked for students that they thought would be a good fit for the inclusive class.
"I didn't even know this class was an option until Bots(ford) recommended I take it. And I'm so glad I did. Once she told me about it, I knew it was something I would love to do because I knew it would make me and so many other people so happy" said junior regular education student Elise Beaudoin.
Botsford is now the teacher of the Unified Physical Education class and she has nothing but positive things to say.
"If I had to pick my favorite thing it would be watching each student become successful. It could be learning a new skill, building a relationship with a peer to help them in class with their skills or just seeing students find success in a new sport or activity. This is by far the best class I have ever taught, it is so rewarding."
The main focus of the class is to introduce new activities, sports, and skills to the special education students. By having regular education students helping along with the process, the transition becomes easier.
Junior special education student, Jarvis Nash expressed his new found love of volleyball when asked about his favorite part about the class. "I like to play volleyball," explains Nash. He also went on to say that he enjoys seeing his classmates.
Nash's experience in the class introduced him to the rules and strategies of a new game. Botsford has noticed that Unified Physical Education is helping special education students become familiar with games they would otherwise not have much access to.
"This class allows a population of students that rarely get to play actual games in gym class, play cooperative games in a class setting with their peers. How amazing is that? Too cool to put into words, you have to see it for yourself!"
Unified Physical Education is rewarding and impactful, but it also comes with its difficulties. When working with people of all different abilities, you need to have patience and empathy.
Beaudoin explains that it can be hard to get everybody on the same page when it comes to participation.
"The most challenging part of the class is getting everyone to participate with a positive attitude, but it isn't that hard! Most participants are eager to show their skills in whatever game we're playing that week."
Hipke also recognizes the difficulty of getting everybody to actively participate. He expressed that it can sometimes be hard to get everyone moving. Some of the students are easily frustrated, so Hipke emphasizes the importance of composure and patience.
"The most difficult part of the class is staying patient because everyone can become a little frustrated at times but you must remain calm."
Janiszewski also expressed that it can sometimes take longer to start class and get the ball rolling. She too explained that patience is key. She noticed that once the time was taken to thoroughly explain everything, all students were able to enjoy the activity.
"This class is slower paced, but that doesn't mean that we don't still play sports or games that regular gym classes play. It takes a little more time to explain games to make sure that everyone understands, but once we get going, everyone gets really into the games and it's a ton of fun!" said Janiszewski.
Overall, regular education, special education, and teachers alike all have had wonderful things to say about Unified Physical Education. They all hope that this class continues to be offered in other years. When safe to do so, Botsford also wants to expand the activities beyond the gym.
"I would love to do some community outings once COVID is under control, go to sporting events, bowling, out to eat, ice skating… things that get us out together doing physical activity or watching organized sports game play" said Botsford.
The possibilities for Unified Physical Education are endless. All of the current students want to bring attention to this physical education course in hopes that the class size will be able to grow and reach more people.
Beaudoin had these words for anybody considering joining. She wants everybody to know that this class is all about positivity, patience, and inclusivity. She also emphasized that it is an opportunity that shouldn't be passed up.
"People should know that this class is simply the BEST CLASS EVER! It is such a unique and uplifting experience that (students) are so lucky to have! Everyone should sign up for this class!"