Athlete of the Week Award Prompts Conversation on Gender Equity
Wauwatosa West senior Janessa Runyan has been a dedicated and involved athlete since she was five. 
"I wanted to find a sport that I like to do, so I tried tap, ballet, volleyball, softball, and all the other different sports until I found basketball and I really loved it. I started doing track in eighth grade because my mom said that I was really fast and that I should be running."
Now a senior at Wauwatosa West High School, Runyan has been a standout player all three years that she has participated in sports at West, and is a driving force on her varsity Basketball team.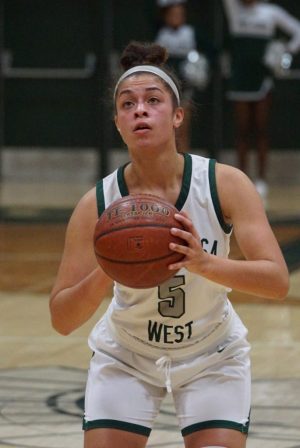 During the 2019-2020 school year, Runyan was nominated and chosen as the 9th Athlete of the Week (AOW) for leading her basketball team to victory during a game in December of 2019. 
As just one of seven female athletes chosen during the 2019-2020 school year out of 26 athletes in total, Jannesa was honored when she found out she had gained the AOW title.
"I was really surprised because girls don't usually win it so when I did win it I was really happy and it just felt really good," Runyan recalled.
Although Runyan had won athlete of the week, she still saw a problematic bias when it came to which athletes were being chosen for the award.
"I was still very irritated because me and only a few other female athletes won" said Runyan. "For every male sport that there is, there is a female sport there too go along with it. So to think that only males normally win it is very frustrating." 
Since 2016, on a weekly basis, coaches, staff, and athletic administrators at Wauwatosa West nominate student athletes that have demonstrated high athletic performance scores. From this pool of top athletes, one is then selected for the AOW award, and recognized on Wauwatosa West's athletic homepage. 
Wauwatosa West has 10 female and 11 male sports from fall to spring, not including the co-ed sports of cheer, cross-country, wrestling, and dance.
Since 2016, 109 Wauwatosa West athletes have received the athlete of the week award.
An analysis of the Athlete of the Week recipients shows that from 2016 to 2019, the awards are somewhat balanced among male and female athletes.  Male athletes were recognized 58% of the weeks and females recognized 42% of the weeks. However, during the 2019-2020 school year more male athletes have been recognized.  
Recently a number of female athletes have voiced informal concerns regarding not being recognized accordingly when compared to their male counterparts.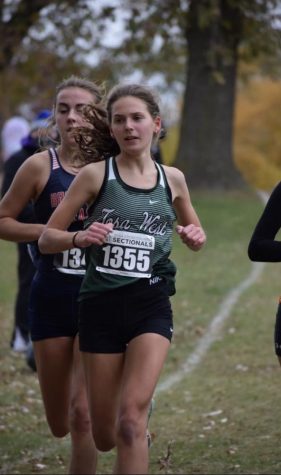 A long-time runner and past winner of athlete of the week, Rachel Krouse, also has acknowledged that there seems to be a shortage of female athletes chosen for the award. 
"I've talked to people about it, and I think the first few weeks it was all guys that were chosen which is kind of annoying," Krouse said. "I think that sports for girls and women need to have more recognition because although there are some aspects that are different, everybody is still putting in the same amount of work whether you're male or female so I just think that should be appreciated."
When the athlete of the week program began in 2016, athletic department staff and coaches hoped the award would not only recognize excellent student performance but also encourage participation.  
The program is administered by Wauwatosa West Athletic Director Coach Jeffrey Gabrielsen and Wauwatosa West Activities and Athletic Department Assistant Christina Toye.
Gabrielsen, who has been involved in Wauwatosa's athletic department for ten years, decided that having an award system for athletes would be a good way to get them to participate.
"I think both myself and Ms. Toye were thinking of ways that we could get more recognition for our kids so I thought athlete of the week was a good idea and we started it," Gabrielsen said. 
Gabrielsen explained that the award is based on the performance of a nominated athlete.  
"We go by performance for athlete of the week. So if our female sports are down it's hard to pick an athlete of the week if they're not performing. So it's more on a performance basis than on an equality basis," said Gabrielsen.
Toye, now in her sixth year as the athletic administrator at Wauwatosa West, said that the decision regarding athlete of the week is largely made by the coaches.  Coaches are asked to submit athletes from their roster for the award. If a coach does not submit an athlete, there is no possibility of them being chosen.
She also noted that there have been a few weeks throughout the 2019-2020 school year where no athlete was awarded due to the committee being overwhelmed and unable to find time to carry out the awarding process. 
"Every week I send out an email saying I need nominations for athlete of the week, so really it's up to each of the coaches to get me the athletes, and then me and Coach Gabe go through and see who had a really good week," Toye said.
Toye also noted that the sports seasons may have an impact as well.
"Some weeks there are more girl sports to choose from and some weeks it's just boys. It depends on the sports that are playing or the season, because some seasons there are more boy sports than girls," said Toye. 
Additionally, Toye believes that the small ratio of female to male athletes is influenced by different levels of participation based on gender. 
"Part of the limited number is the limited participation of girls. If you look at our participation numbers, overall girls participation is much lower than boys. I think that the lower numbers of participation of girls is because female sports are not as big and they don't have as many players," Toye said.
Head Varsity Girls Basketball team coach Eric Katz feels the reason for limited female nominees is the result of other coaches not nominating enough female athletes. 
"As far as athlete of the week, it comes down to the coach putting somebody up for it. I'm one of those coaches that's always going to put up an athlete no matter what," Katz said.
However, some students believe the athletic department, and society in general, favor male athletes and male sports.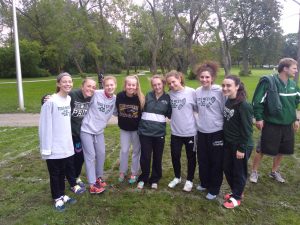 Senior Varsity Cross Country, Volleyball, and Track athlete Maggie Shilling, believes that the bias can be traced back to those making the choices.
"It shows how selective our director is to men compared to women," Schilling said. "It exposes the focus on the boys teams over the girls teams which is really frustrating to me because I feel like the girls should get equal representation, especially in sports." 
Schilling believes that boys sports often get more attention than girls sports which contributes to the gender equity problem.
"I think that there's not as much excitement for girls sports as there are for guys sports a lot of the time. It should be advertised more when girls are having sports because I think that there is so much advertisement regarding male sports like the football games and more of the boy events and there should be more advertisement for the other teams like the girls volleyball team or the girls swim team," Schilling said.
Senior female track and cross country runner Isabelle Schmitt also believes that it's the people making the decisions that are causing the imbalance of female and male AOW winners.
"Girls definitely put in a lot of work. The people that pick who's getting the award should maybe be more aware of who they are picking," Schmitt said.
From 2016 – 2019, wins are somewhat balanced among male and female athletes with male athletes winning 58% of the time and females winning 42%.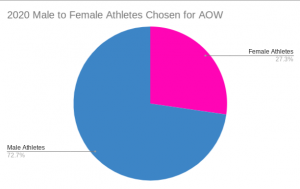 However, there was a significant shift in the results during the 2019-2020 sports season, when male athletes won athlete of the week 73% of the time, compared to 27% for female athletes. 
12th-grade cross country runner Ella Brewer feels this has become a normal disparity that female athletes have long been accustomed to.
"I feel like male athletes get a lot more attention than female sports do and it's not surprising, but I see it as being very unfair," Brewer said.
She thinks that there are many solutions that those in charge could turn to in order to fix the issue.
"They could have two athletes of the week, one for girls and one for guys so that there could be equal representation. I feel like everyone should have an equal shot because there are girls who are doing just the same if not better than a lot of the guys that are nominated for athlete of the week," she said.
While some students like Brewer feel that the coaches are not nominating enough female participants, Coach Katz says that it's also up to the competition. 
"It's my hope that the people making those decisions are not looking at gender when making them. I think we have plenty of good female basketball players, but you're competing against every other winter sport nomination," he said. "It all depends on what your competition is. I would love for more girls basketball players to win but we can only nominate who is most deserving."
While students, coaches, and administrators might not all agree on the approach to solving the problem, Hedi Hegwood, the swim and dive coach for both girls and boys, believes that the only solution to the inequity is to discuss the issue and encourage awareness among the Wauwatosa community.
"I think the biggest thing is acknowledgment," Hegwood said. "There are a lot of people that are naive to the matter and just don't know about it. They're not trying to exclude people they just don't know or they don't understand. Things have to start somewhere small, and bringing that awareness might bring more fairness and equity to the issue within the Tosa West community."
For senior Janessa Runyan, the athlete of the week award is just another example of the challenges facing female athletes.
"In gym, when I was a sophomore, I was the only girl in my gym class and nobody ever wanted me on their team," said Runyan. "For basketball all the boys would act like they could beat me in a one-on-one and a lot of the times they couldn't, so it felt really good to beat them."
Runyan encourages other female athletes to believe in themselves and keep doing what they love despite what biases are present.
"Have confidence. Just have confidence and it will show," Runyan said.
Runyan hopes to continue to pursue athletics in the future and has been accepted to play basketball at several colleges.