Students Work Black Friday During COVID-19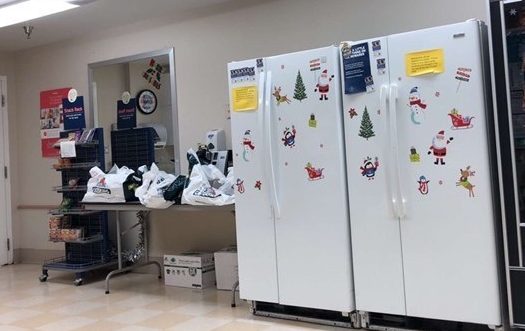 With COVID-19 cases on the rise and trending upward, the CDC released guidelines on how to celebrate Thanksgiving. Wisconsin Governor Tony Evers urged people to only celebrate with their immediate family, saying, "I know this upcoming holiday season is going to be tough." But one thing that has been unsure is another tradition: Black Friday. Wauwatosa West students are wording and putting themselves at risk this year.
Some people are moving their shopping online, but some retail workers have seen an increase recently. "More people are shopping for Christmas stuff," said Wauwatosa West Junior Mia VanLeer, who works at Marshalls/HomeGoods.
Junior Ella Schmidbauer, who works at T.J. Maxx, also has noticed a rise in shoppers.
"There was an hour-long line last Saturday," Schmidbauer said.
The increase comes at a time when cases in Wisconsin are also rising. 3,455 new cases were reported on November 23rd alone, according to the New York Times.
Even so, stores are implementing precautions so the pandemic doesn't get in the way of their biggest shopping day of the year.
"They have dividers up by some registers," said West junior Payton Raue, who also works at T.J. Maxx.
Other preventative measures, such as closed dressing rooms, sanitizing the carts, cleaning the register, and having a limit to how many people can be in the store at once, are also in place.
"We have a health check every day before we go in to work," said VanLeer about Marshall's and Homegoods' policies. "We're also very strict about social distancing.
Other places in the area are also finding ways to stop the spread while allowing holiday shopping. Mayfair mall is using a virtual line system to manage the crowds called Spot Holder.
"Through the implementation of Spot Holder, we're able to provide both our retailers and shoppers a platform that delivers a safe and efficient environment for shopping, especially as we head into the holiday season." Said Chris Jaeger, the general manager of Mayfair, in a press release.
Although black friday will look a little different this year, it will still happen, no matter the effects on those involved.
"I'm not looking forward to the weekend and Friday in general," said VanLeer.
If you are shopping in person, stores have ways to keep you safe, and if you do not feel comfortable going in person, online deals will be there as well. If you do decide to shop, be sure to wear a mask and distance yourself from others to ensure you're shopping responsibly.