The Tree that Became the Stump and other Historic Tosa Memories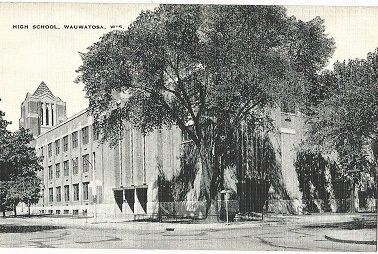 Nearly all Tosa East students have heard of the Rock at Tosa West- they paint it green, we paint it red… the struggle has gone on for decades. But much about the origins and history of the Rock are unknown, and there are many rumors as to how the tradition of the attempted regaining of the Rock began. This thievery has been attempted since at least 1990 when, according to the 1990 Tosa East Yearbook, a group of "seven Wauwatosa East High School students were questioned by the police… [after] using spades, a sledge hammer, a pry bar and a shovel in an attempt to dig up the rock." One Tosa East alumnus, a now Tosa East mother remembered her experience as a member of this original crew in 1990: "Certainly many tried to graffiti the rock. We were perhaps the dumbest to think the rock could be moved." Many alumni who are now well-known teachers at Tosa East also remember partaking in or observing the painting of the rock, including Mr. Dale, Mr. Cartier, and Mrs. Tuinstra. Both the traditions of painting and attempting to steal the rock have been continued on since these teachers were students, and they still occur today. 
However, most East students don't know about a similar landmark in the history of this rivalry: the Stump. While perhaps less intimidating sounding, the Stump provided a balance of powers between the two schools. The Tree that became the Stump was massive, standing on the corner of Wauwatosa and Milwaukee Avenue nearly as tall as the school building. The significance of the tree before it was cut down, becoming the stump, is still unclear, since most alumni who remember this tree are no longer easily found to interview. Unfortunately, the Tree was one of the many victims of the Dutch Elm Disease that swept through Wauwatosa in the 1960s, a disease still present (though less prevalent) today. And so, the Tree became the Stump. 
The Stump was utilized much like the Rock- it was spray painted red for East homecoming and other events, and it was spray painted green for West events. West students would also chip away at the stump bit by bit, with a piece of the stump even allegedly on display at Tosa West during the 1970's. The Stump was removed due to relentless rotting in the late 1980's, a sad moment for many East students and alumni. The Stump, and the school spirit it incited, remains to this day a fond memory for many Tosa East alumni. The once iconic stump was a once valued tradition, which has now faded into a forgotten part of East history.
This article was originally published in October of 2019 in the Cardinal News.