Key Club Holds Annual Thanksgiving Food Drive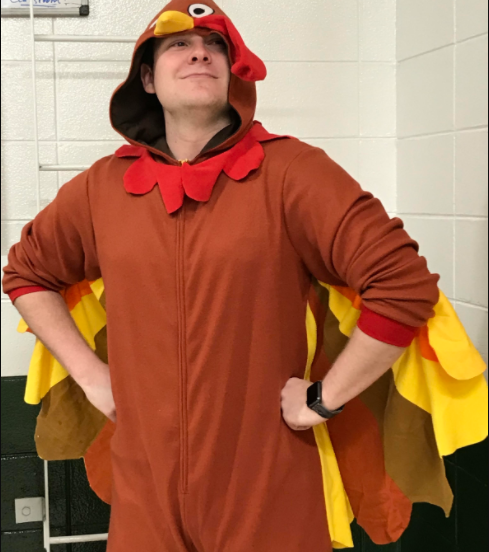 For the 20th year, the Wauwatosa West Key Club collected non-perishable food items for the Tosa Cares food pantry in Wauwatosa. 
Students who donate receive a ballot to vote for teachers to wear a turkey costume. This year Band teacher Alexander Hunt wore the costume on November 26th, after the drive concluded.
"Key Club's mission as an organization is to foster knowledge and awareness about the importance of being kind and gratitude but also the importance of giving back to your community," says Amanda Frazier Key Club advisor. 
This year has been one of the lowest years for the food drive; only 20 students donated and only 60 items were collected. 
"The number of items seems to have gone down every year. I think that part of the issue is that there are no announcements made daily over the loudspeaker. I think that hinders a lot of support and awareness for events and activities," says Christiane Toye. 
Toye has been an advisor for Key Club since she has worked at Wauwatosa West High School.
"Students get email announcements, but how many students honestly check or read them? So, it's hard for us to remind students unless they're actually seeing the table at lunch, but by then it's too late," says Frazier. 
For the past 2 years, Wauwatosa West has changed the way that announcements are being heard, so participation has been very limited this year. 2019 has been a very tough year for Key Club and their efforts to have events that encourage others to give back. 
"We encourage individuals to participate but what we have noticed is that most of our biggest numbers are at the freshman and sophomore level. It seems as the students get older, they get more involved with other things and drop off," says Christiane Toye. 
Key Club is very big when it comes to college and resumes. Having volunteer experiences along with outstanding grades and letters of recommendation sets you far ahead.