Wauwatosa West Students Participate in Homecoming Week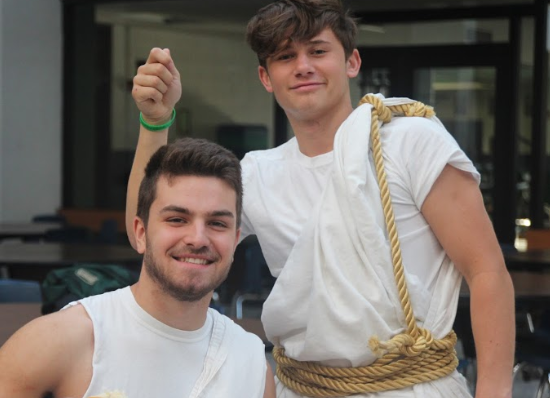 Wauwatosa West Homecoming Spirit Week starts on Monday, September 23rd and concludes with the dance on Saturday, September 28th. Each school day features a "spirit" dress up day as well as activities such as the Dodge ball Tournament during Wednesday advisory and the Friday Pep Rally.  
 Wauwatosa West High School Principal Frank Calarco likes the idea of homecoming week because everyone has a fun time, and the school comes together by participating. 
"I think that Homecoming week is very important. I believe that it helps bring the total high school experience and brings all of the grades in the school together," said Calarco.
The week of Homecoming contains a lot of events for the school.
"Friday is my personal favorite," Calarco said.  "It brings the whole school together, and the community when we have the homecoming parade and football game." 
Homecoming takes a considerable amount of time to coordinate, so that was important when it came to the organization of Homecoming. Student participation is also important. 
 "Since Homecoming is aimed towards the benefits of the students, we wanted the student senate to be involved. Students have to be able to have ownership for their own school," said Calarco.
The student senate at Wauwatosa West also has a role in making decisions on themes for homecoming week.
Senior Class President Haley Bachar said, "theme ideas were put on a whiteboard and we discussed how each theme would look or turn out in terms of participation of the student body."
Student senate organizes homecoming week. They vote on theme days for each day. 
"The way that a theme would win would be to get the most votes. We use this system for homecoming days because there are so many options and it's nearly impossible for one day to receive a majority of votes," said Bachar.
Monday is Farm day. Tuesday is Toga day. Wednesday is Jocks day for underclassman and Preps day for upperclassmen. Thursday underclassmen will wear fancy bottoms and a casual top, while upperclassmen will wear a fancy top and casual bottoms.  Friday is Green & White school spirit day.
Traditionally the senior class organizes their own theme days. Monday is Goth day. On Tuesday seniors can be in a group of friends making up a Frat/Sorority. Wednesday is VSCO girls day. Thursday and Friday will follow the traditional theme days. 
Wauwatosa West students in the past have generally liked all of the homecoming themes. 
Many students are also attending the homecoming dance on Saturday September 28th, from 8-10:30pm. Tickets are available for purchase during lunch during the week of Homecoming.
Overall, Homecoming Week unites the school and community.