Freshman Lucy Cook had just finished a full night as part of the "run crew".
It was 9:30 pm. And she was tired.
She had spent a full day at school and the last 5 hours moving sets around during a full practice run of the 2023 fall production of Frozen.
Lucy is one of sixty students who are part of the tech crew for the Tosa West Trojans theater production of Frozen.
Being a part of the tech crew is fun and exciting, but it is also very tiring.
"I've been working super hard and I'm incredibly tired. I feel like I'm about to pass out from exhaustion," Cook said. After the evening run of the play, there was still more work to be done. "I still have homework to do, but now I'm too tired to do it."
At tech week, the cast and crew ran through the entire play of Frozen to practice the scenes, set design, lighting, and music in preparation for the ongoing musical of Frozen, which opened November 1oth.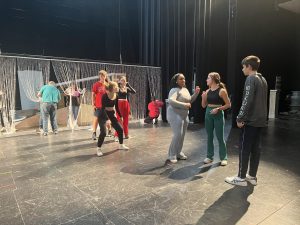 "Tech week" means long nights for everyone involved in the production, but allows the cast and crew to make sure that all details are prepared for the show.
"I'd say the best part of tech is knowing that the effort you put in pays off. Getting through the building processes can be really difficult but by pushing through and showing the leaders that you're passionate about it, then you'll get to be on run and witness the show turn out and just how great the magic of theater is once it's all put together," said student Nai Roux.
As tech week begins, there are many things the cast and crew need to finish. Wauwatosa West theater director Adam Steffan was granted the chance to take on the challenge granted to Wauwatosa West to direct this show.
"The cast, crew, and pit of Frozen is an incredible group of students who are so excited about the opportunity to be the only high school in Wisconsin to perform Frozen. We are thrilled to have received this honor and are honored to produce this pilot production."
Steffan has been working hard along with Tech Director Dale Shively to complete preparations for the upcoming musical.
"We're confident we can do it. It's just a matter of getting the kids to all get on the same page and move forward." said Shively.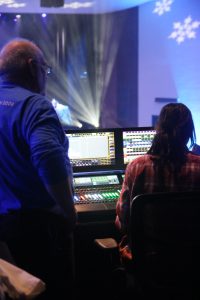 Shively is also preparing in hopes of traveling with the entire production to Blookington, Indiana in June. The Tosa West Trojans will submit an application to perform their production of "Frozen the Musical" to the International Thespians Festival in Bloomington, Indiana. Several thousand high school students and high school theater directors attend this annual festival. Each evening one school presents a production.
If Tosa West wins this competition, all of the props, sets, costumes, and actors must be ready to go to Indiana to perform. One school in each state was granted this opportunity. If the judges deem the show good enough they can go to the international competition and compete to make the best performance in all 50 states.
Both tech directors and students participating in the cast and crew have high hopes for the upcoming musical and are preparing for any troubles or issues they may have.
"Tech is always an adventure, whether it's putting things together or taking it all apart. You make new friends and gain new skills. Tech can be a lot of work but it pays off in the end. I like tech because it keeps me busy and I can sharpen up my woodworking skills." said Junior Angelo Edwards about working in the crew for the upcoming musical.