The Custodial Staff: The Unsung Heroes of Wauwatosa West
From cats to bats, Wauwatosa West Building Supervisor Ryan Anderson has seen many different things in his six and a half years at Tosa West.
"We had a cat in the building once. It bit Mr. Schneider (science teacher), and he had to go to the hospital," said Anderson.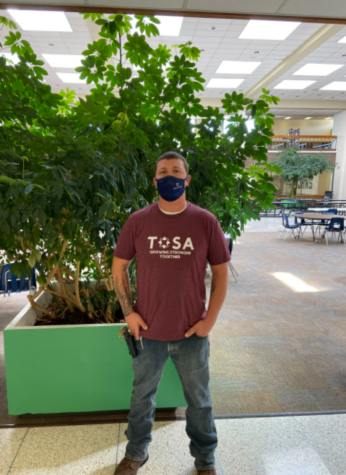 Anderson thinks the cat must have snuck in an open door. Mr Schneider and Mrs. Hegwood (social studies teacher) helped chase it down and take it to the humane society. Anderson said it took over an hour to catch the cat.
The Tosa West custodians come in early and stay late so that West is clean and ready for the next day. Ana Rangel works from 6am to 3pm and these hours can often contain things that are a little strange. Although she loves working at West, she often sees things out of the ordinary.
"One kid pooped in one of the garbage cans, he did it like two or three times," said Rangel.
Both Rangle and Anderson have seen and heard many crazy things while on the job and being a custodian can be hard at times. For Anderson, his day begins before the sun comes up.
"I start at 5am opening the building, turning the lights on, …turning the alarms off, making sure everything was cleaned at night from our night custodians that do all of the classroom cleaning, and make sure it's safe and ready for kids to come to school," he said.
Some students really appreciate the work the custodians do, but others do not. 
"I think a lot of times we're taken for granted," said Anderson.
Students don't often realize who picks up after them. There is often the expectation of things to look clean, without the realization of who put in the work.
 "I think generally students just expect things to look a certain way, and are not really sure how they got to be that way," said Band Teacher Alex Hunt.
Everyday, custodians clean up the messes of students without much recognition. Our custodians say they are very understanding of the students' messes and clean them up without complaint. 
"Any accidents can happen and I'm ok with it," said Rangel.
The custodians are here longer than most staff during the school day. They make sure the school is clean and ready for everyone. Some custodians clean the school while others, like Anderson, make sure the heating and cooling systems are running properly. 
The Tosa West custodians  have been working at West for years, which comes with rewards. They get to see the students grow up and achieve their goals.
"I like watching the transition between immature freshmen and then you see them walk across the graduation stage, and you build a relationship, regardless of if it was just talking or coming to a sporting event," said Anderson.
Since Anderson sees students everyday, he gets to know them and their personalities. Just having quick conversations or waving to him in the hallway can put a smile on his face. It makes him love the job even more.
"The students who see me do stuff behind the scenes all say thank you, and people wave. It's nice to feel like part of the team, like a Trojan," he said. 
Riley Veenendaal, a freshman talked about how custodians aren't seen, but she, among other students, notices their hard work and appreciates what they do for the school.
"We see them sometimes but like not really. The school is just always clean," she said.
Hunt knows that students are grateful, but wishes they could find more ways to express their gratitude.
"I think students are grateful, and it goes noticed. They're just not sure how to tell people how they appreciate it," he said. "I really hope students can start finding more ways to appreciate our custodial staff because it definitely is an unsung hero's position."