Key Club Continues to Find Creative Ways to Serve During a Pandemic
Key Club had to do a full one-eighty when the pandemic forced the majority of their activities to be put on hold. With hundreds of student participants, meetings were typically held in the cafeteria to provide for the many people interested in giving back to the community. Despite meetings moving to Zoom and diminishing opportunities, Wauwatosa West Key Club members continue to find ways to serve their community.
Before the pandemic, many students participated in volunteer work outside of school. These opportunities helped students achieve the hours required yearly in order to get recognition at graduation. These hours spent volunteering also help students stand out to colleges.
"Before the pandemic, I did a lot of volunteering through my church and through the volleyball program at West," said junior Shannon Damuth. She has been a member of Key Club since her freshman year and is currently the sitting Secretary on the Student Board.
Other students even volunteered their time at hospitals and nursing homes, places that have been directly impacted by the pandemic.
"Before the pandemic, I was capable of working with various organizations in the area, such as a nursing home named St. Anne's Salvatorian Campus. This was where I spent the majority of my time during the week, as I frequently organized events for the elderly. My duties included helping the nurses find enjoyable activities for the residents, finishing basic tasks, and collaborating with fellow volunteers," explained senior board Vice President, Brandon Simpraphone.
Keagan Schmitt, a member of Key Club, recalled her pre-pandemic volunteer opportunities as well.
"Before the pandemic, I did a lot of indoor work. Nearly every volunteer event was inside."
The pandemic caused many of these opportunities to diminish. It became too dangerous to gather in large groups, especially indoors. The Key Club board members and advisors found themselves struggling to provide opportunities for the students involved.
Jared Weber, senior and President of the Key Club Student Board, has had to deal with the difficulty first hand. He has been leading the other board members through all of the obstacles. Most of the problems were discovered when the board first tried to gather opportunities for the many Key Club members.
"Because of the pandemic, with community events and gatherings largely halted, volunteer work is much harder to come by. There simply are not as many opportunities for members to be engaged in their communities," Weber said.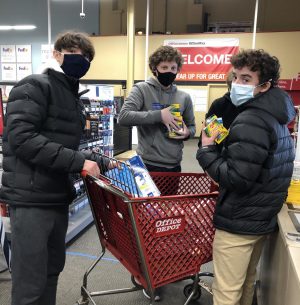 Weber also noted that many of the organizations have made the switch to only accept monetary aid, rather than physical. This can make it especially difficult for teenagers to contribute.
"The model of volunteering has moved largely from labor-based to donation-based, as the organizations that used to benefit from in-person volunteers currently really only have a few ways to safely accept "aid," of which money is a primary source."
Not only has the pandemic put a halt on opportunities available for volunteering, it has also brought problems stemming from logistics and communication. Simpraphone brought to light the difficulties associated with the divided student body among two cohorts.
"It has not been possible to hold in-person meetings after school with an imbalance between those in Cohort A and Cohort B. Our president is the only one in Cohort B, while the rest of the board members including myself are in Cohort A. This makes it implausible to communicate with our members (through) in-person meetings."
The pandemic brought a series of problems for Key Club, but it also shed light on simpler, and more unique ways of volunteering.
"This year's volunteer (work) has seen an increase in the number of "DIY" donation opportunities, allowing members to become creative in the way they volunteer," explained Weber.
Students were able to participate by making dog toys from old shirts and tennis balls, as well as crafting tied fleece blankets.
Simpraphone also acknowledged that the pandemic introduced the board to new opportunities never explored before.
"The board and advisors have found new opportunities that we have not seen before, such as the Hydrate 28 and Feeding America events."
Hydrate 28 brings awareness to the water crisis by having students gather pledges from family and friends and committing to drinking sixty-four ounces of water each day of February. Feeding America regularly collects food donations to distribute throughout the community. These are the new ways students have been getting involved, while also following COVID-19 guidelines.
The board members were not the only ones that were appreciative of the new opportunities. Schmitt was grateful for the awareness brought to lesser-known organizations.
"I think now there's been more awareness brought to different volunteer groups (and) opportunities we might not have known about before. This is because of the lack of other opportunities that occurred regularly, (but were) cancel(led) due to Covid," expressed Schmitt.
Other members expressed that it was easier to find time to volunteer due to the hybrid mode of learning. Lexi Pitcher explained how remote learning has worked to her advantage.
"I have been volunteering more than I did pre-COVID. I volunteer mostly at the same places. For a while I had been going about once a week on any day I wasn't at school in person".
With the change to concurrent learning, Pitcher further explained that she is no longer as flexible as she would like to be, but Wednesdays still give her the option to volunteer during the week.
The other benefits to volunteering during COVID-19 have been the change in group sizes to fit the health and safety guidelines.
"Volunteering is more meaningful with smaller groups (when) members can form relationships with people they meet at events and even with people at West," said Damuth.
The smaller group sizes allow for people to be more comfortable and more willing to talk to the other volunteers.
Benjamin Singleton is a senior that holds the position of "Points Keeper" on the board. He too noticed that the new mode of meetings may be increasing participation.
"Being able to zoom into the meetings may make some people more willing to attend them than if they had to come into one after school like in normal school years, so we could have some people staying a part of the club for longer because of that," said Singleton when asked about the possible benefits of meeting over zoom versus meeting in person.
Above all, the board members all expressed how grateful they were to still be able to volunteer, even if it wasn't to the extent of prior years. Weber expressed that their main priority has been to follow guidelines and ensure safety.
"Although our club is lacking many volunteer opportunities, it is a worthwhile sacrifice to follow COVID-19 guidelines and keep everyone in our community safe".