Students, Teachers Share Experiences with School Year During COVID-19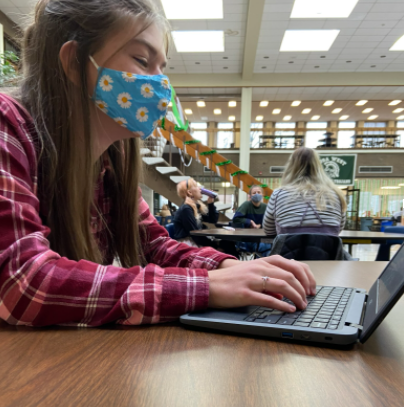 Wauwatosa students and teachers are into the second quarter of the school year, with some learning fully virtually and others participating in a combination of both in-person and virtual instruction.
Students enrolled in Tosa Connected taught by Wauwatosa teachers for Wauwatosa students and the Wauwatosa Virtual Academy open to students across Wisconsin continue to learn virtually. Students enrolled in Phase Into Learning continue to learn in the hybrid model within one of two cohorts, attending in-person classes 2 days a week and completing asynchronous virtual work the other 3 days.
Wauwatosa East freshman Finley Diop in the hybrid model said, "To be honest, I'm still trying to adapt to it, but overall it's not as bad as I thought it would be."
Some other students admit that the school year isn't what they expected, but they are still enjoying it, such as East freshman Amyah Walters who is also in the hybrid model.
"It's not how I thought my freshman year would be, but I kinda like it," Walters said.
Another West freshman, Mia Weber, acknowledges both the benefits and challenges that she feels learning in the hybrid model provides during the pandemic.
"I like how we are still able to see our friends, while not risking getting COVID as much, but it is harder to get our assignments done," Weber said.
Many students and teachers are still working to find a balance for the right amount of work students should complete during asynchronous days in the hybrid model. Many teachers hope for students to be challenged but not significantly overwhelmed.
"I feel like my teachers give me more work on virtual days than what they would give in a fifty minute period," Wauwatosa West sophomore Lexi Pitcher in the Hybrid model said.
Despite the more work, Pitcher still feels she is able to do more things outside of schoolwork.
"I feel like I have more time for other activities and it is easier to balance extracurriculars," Pitcher said.
Along with the challenges and distractions of learning from home, students have had the opportunity to work at their own pace.
"It has been challenging but in the end I've learned how to be punctual and improve my time management," West freshman Keira Dicastri in the hybrid model said.
Other students such as West senior Brooke Brady have enjoyed their ability to work more independently during the hybrid model.
"I like that I can do self-led work but I also like being able to have the opportunity to reach out to a teacher when I do need it during in-person," Brady said.
Teachers in the hybrid model have also faced challenges balancing both teaching in-person and managing students completing asynchronous work between the two cohorts.
Regarding the hybrid model, Wauwatosa West art teacher Selena Marris said, "There's pros and cons. Learning canvas seemed intimidating. It's hard to make last-second adjustments [to adapt lessons]."
Some staff in the district teach both virtual Tosa Connected classes and in-person classes in Phase Into Learning. Some others only teach virtual Tosa Connected classes such as English teacher Emily Jones.
"Online learning has pushed me to make lessons more engaging and I like the way that it's different from last spring," Jones said. "There is more engagement and I'm enjoying getting to know everyone. It is overwhelming and it's a lot of work but I'm getting what I need and I really like facilitating classes with students."
Some students in Tosa Connected such as freshman Evelyn Skyberg-Greer feel they are better able to work from home.
"I don't love that it had to happen the one year that I'm transitioning to high school, but overall I haven't minded it too much," said Skyberg-Greer. "I especially have enjoyed being able to work at my own pace, and I feel as though I'm able to concentrate a lot better from home."
Skyberg-Greer has also experienced challenges with getting additional assistance from teachers virtually.
"The big con of it is that it's a lot harder to communicate with teachers when I have a question or need help. Emailing and zooming is great and all but it just doesn't make things click the way that in-person help does," Skyberg-Greer said.
Even with the challenges, Skyberg-Greer is content with enrolling in Tosa Connected.
"All in all I'm glad that I chose virtual for myself because I think that it's a whole lot safer and better for me and my family right now," Skyberg-Greer said.
Tosa Connected freshman Lily Buer also enrolled in Tosa Connected for health reasons. Like some other students in the virtual setting, Buer struggles with fewer opportunities for social interaction in comparison to an in-person school day.
"I hate online school because I am a very social person and this sucks. I hate sitting at home and doing nothing and I just don't feel motivated at all to do schoolwork," Buer said. "My dad is high risk so that's why I couldn't do hybrid."
Wauwatosa Virtual Academy junior Mia VanLeer has also been challenged by limited social opportunities.
"Distance learning gets pretty lonely, I miss seeing my friends every day and actually being in school," VanLeer said.
VanLeer thinks that with the Virtual Academy she has established a combination of both structure and independence.
VanLeer said, "Although I still have a pretty strict schedule, I get breaks when I want and can eat when I need to. I truly have time and room to learn how I need to in whatever way."
Leave a Comment
Donate to The Tosa Compass
The Tosa Compass is the only dedicated Wauwatosa newspaper, providing quality news coverage. Your donation will support the student journalists of Wauwatosa East and West, helping us purchase equipment and cover our annual website hosting costs.