Wauwatosa Blazers Lacrosse Team Increases Knowledge of Sport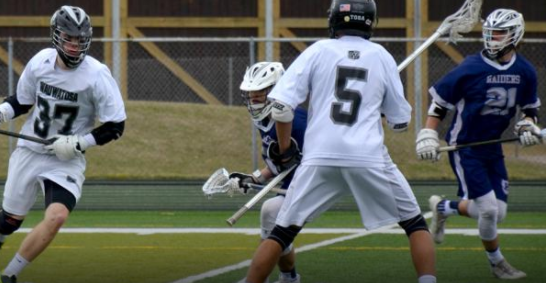 The Wauwatosa Blazers is the lacrosse youth program teams that hopes to create interest and participation in the sport of lacrosse.
The Wauwatosa Blazers high school program was started about seven years ago and is currently a co-op of players from Wauwatosa East, West, Wisconsin Lutheran and Rufus King, though most of the students come from East or West.
Currently the lacrosse team invests many hours into training and practice in order to be as good as they can be. While they are in season, they practice 5 days every week.
With all of this practice, Coach Robert Buckley hopes to see an improvement with individual skills, teamwork, and lacrosse knowledge during this season.
"My expectations are that every player who has made the commitment to the team will come to every practice and team event, be on time, be respectful, put forth his best effort given his talents and work hard to better themselves, the team and the program," says Buckley.
However, the time spent at practice doesn't compare to the time that some students on the team have been playing lacrosse. Junior player Spencer Schmidt for instance has been playing lacrosse since 6th grade, making this his 6th year.
While there isn't a doubt that the students on the team enjoy playing the sport, there are some senior players who are hoping that all of their hard work and dedication from over the years will pay off.
"I hope to get some highlights this season," said senior midfielder Derrick Bittner. "Hopefully colleges will look at that and say that's a good player, he has some highlights."
The game is not familiar to a lot of people, and most people who have heard of it don't know exactly what the game is or how it is played.
"Lacrosse definitely doesn't get the recognition it deserves," says Schmidt. "As a Native American sport it was always put down and not given much attention, but recently it has become one of the fastest growing sports in America."
But just because the game isn't recognized by others doesn't mean it's not a hard sport that is physically taxing.
"I'd say the sport is almost as or equally as physical as hockey and definitely more physical than football," says Bittner.
"You really must have a high pain tolerance in order to play," senior goalie Jacob Lueck added on. "Especially if you are playing offence like Derrick."
If you are interested in going to watch and support the Wauwatosa Blazers, go to their website for information on upcoming games and more.