Wauwatosa West Boys Basketball will host tryouts for their 2023-2024 season on Monday November 13th and Tuesday November 14th at 6:00 AM in the Wauwatosa West gymnasium.
The players are ready to get this season started and all have high expectations.
Tosa West was the GMC Conference Champion last year. During the 2022-2023 season, the team had 18 wins and 8 losses in conference play. The team lost 84 to 66 in the WIAA Regional Finals on Saturday March 4th 2023. They're hoping to clinch that again and go even further than last year.
"I feel great. I'm really happy to be back, we are gonna have a great team and I know we have a great chance to do a lot of great things this year," said senior Dereon Cunningham.
Numerous skilled players will be returning for the Trojans. The team this year with Juniors Jake Hansen, Kai Rogers returning as well as Seniors Riley Stern and Tyler Boesel. Jake Hansen and Kai Rogers have offers to play at several Division 1 schools.
The players have high hopes for the season and are anticipating a lot of success.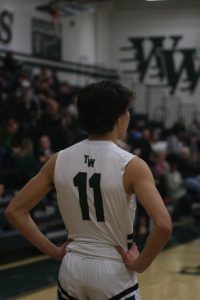 ¨We will go as far as we take ourselves because the only way we're gonna lose is that we beat ourselves, because I feel like we're the best team in our sectional and in our division, so the only way we will lose is if we beat ourselves,¨ said junior Kai Rodgers.
There might be some challenges in the way such as Marquette, Hamilton, and Whitnall teams, but as long as they keep their heads held high and all work together, everyone at Wauwatosa West believes they can make it far.
We wish the best of luck to everyone that tries out for the basketball team.
The team plays their first non-conference game against Fond du Lac on Tuesday, November 28th at 7:00 PM. Their first home game is against Whitnall High School on December 2 at 6:00 PM at Wauwatosa West.