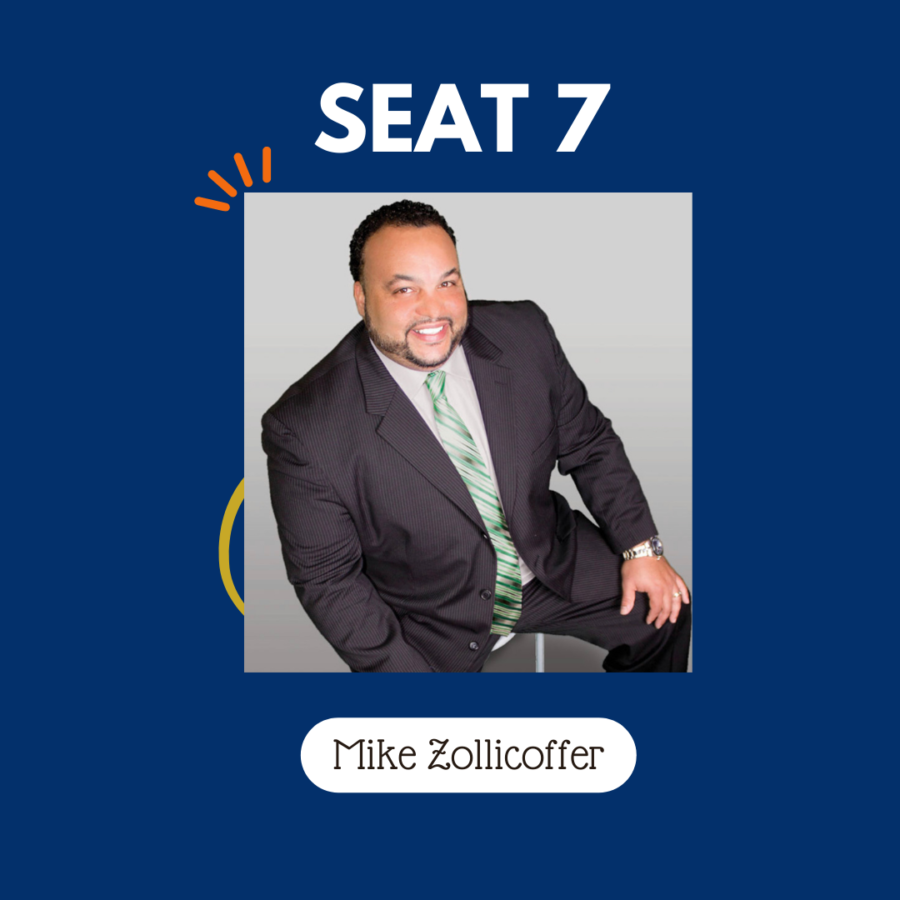 School Board Candidate Feature: Michael Zollicoffer, Seat 7
Michael Zollicoffer is running for seat 7 on the Wauwatosa School Board. He has 2 children in the district, and has a background in real estate. His main priorities are school safety and teacher retention.
What is your connection to the Tosa Community?
I have been a Tosa resident for 17 years. When my wife and I were choosing somewhere to live, we chose Wauwatosa because it was centrally located to everything and because we wanted our kids to grow up around a diverse community. I have coached for a few years in the community for the Jr Trojans Football team, now known as the Blazers. I also coached for the Tosa Basketball Recreation League (TBL).
I've chaperoned in the past throughout my kiddos elementary and middle school years which include field trips, dances and Friday nights at Whitman Middle School chaperoning for the WAC. I am also a member of the PTA, which keeps me engaged in things going on in the school.
As far as my profession goes, I am a Real Estate Agent and my firms name is Infinity Realty. I have been in the Real Estate Industry since 2003. I was a Loan Officer for many years beforehand and worked prior for Waterstone Mortgage. I am very passionate about helping people and enjoy making new relationships. They call me Mr. Closer, just Google "Mr. Closer" and see who pops up!
Why are you running?
I am running because I have lived in Tosa for 17 years and have been very involved in the community. My running is not about the money, because there is no pay as this is a volunteer position. I am a parent and want to see only the best for these schools. I work with people every day as a Realtor. I listen to people, problem solve, negotiate, and deal with contracts. Also, I am a person of color, a people person, past coach, and Crisis worker/ mentor and feel that all my skill sets would be an asset to the board, plus living here for 17 years I love Wauwatosa, what better way to take this opportunity and be on the school board.
What is an issue you've identified within our district and how do you intend to address the problem?
An issue I have identified in my eyes is school safety and certain behavior issues needing to be addressed. I have 2 kids who both attend Wauwatosa West and there has been numerous of fights since the beginning of the school year that everyone has witnessed on TV, social media, and was even on WorldStar! The schools are where students, teachers and staff are to feel safe. I know there are behavior problems that need to be addressed and will work to address these issues. Disrespectful behaviors, towards teachers and staff is unacceptable.
As far as addressing the problem, I will make sure there is a clear discipline policy that is clear and defined policy in place with fair, consistent, and enforceable consequences for students who are engaging in violent behaviors. We also need to improve parent engagement and form partnerships with families to get to the root of some of these behaviors. This is not rocket science, there are expectations when every student walks through the doors of the school. I was a crises worker/mentor and worked with kids in the inner city for 16 years, it all starts with behavior, once we can address certain behaviors then everything else will fall into place.
In your opinion, what has our school board/ district done well?
I am not sure how to answer this question, in my eyes it looks like a lot of policy has not been reviewed in the last few yearsespecially the disciplinary policy. I believe they are now working on a disciplinary policy now after months.The 2022 School Audit Findingssays we need to do better when it comes to academic performance as the District was not well. However, I do think the MOU with Wauwatosa Police Departmentwas good. I think that the continued relationship with the Tosa PD/SRO'sis a great thing for the safety of our schools. 
What will be your number one priority on the school board?
We need to prioritize teacher retention; we lost 193 out of our district last year. The teachersisone of our greatest assets. I have had the pleasure to know many throughout the years of my kids in school. We need to make sure our teachers are being compensated appropriately and their pay is comparable to neighboring districts. We need to make sure they have the resources and support they need. Lastly, we need to make sure we have structuresin place for curriculum and behavior expectations, so teachers can focus on teaching which is what they love to do!
What unique professional or personal perspective will you bring to the board?
I am a parent and a professional. In my work experience as a Realtor, I wear many hats and have worked with diverse clientele. My career has taught me to listen, negotiate, problem- solve and get results. I also was a coach and a mentor/ crises worker for troubled youth for 16years. I am a people person and will have the ability to work with everyone regardless of your background or beliefs.
How have you funded your campaign? How are you making sure the sources of your funding remain non-partisan?
I have received donations from friends, family,and the community.It is really a shame to see political figures in a local, nonpartisan race. I am proud of how my campaign is running, honest and transparent! I am so grateful for all the 100 plus volunteers who stepped up to help!! I have made so many new relationships in the Wauwatosa community and so thankful for that!! Be sure to Vote April 4th!
View Zollicoffer's website here. View his opponent's website here, and his opponent's article here.
Donate to The Tosa Compass