Drumroll, Please! : Behind the Scenes with the Pit
May 7, 2022
Drumroll, Please!
The pit orchestra for The Addam's Family included around 30 student musicians and a few adult musicians from the community, each one of them providing unique details to the sound of the show. This year's spring musical provided a unique challenge for the theater: space. The band would typically play in the extra space behind the curtains. However, due to the larger cast, Pit Conductor Mr. Krubsack and Director Ms. Jaskulski relocated the pit to the orchestra room to keep live music a part of the production.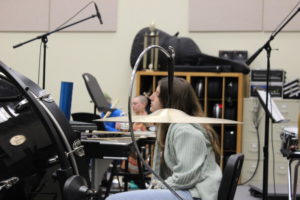 One role of the musicians in the pit is to make sure that there is a good sound to add weight and depth in a show's soundtrack.
It's very important to evoke the right feeling when playing, and this is no doubt a tough feat for these musicians to perform; emotion is a hard thing to capture in instruments and music. Though the pit may not be seen by the audience, they show themselves through the flowing, skillfully played music all throughout the production.
"My favorite part is working on the music with all those involved in the musical. The music is so fun and provides a big challenge for the pit musicians," said Mr. Krubsack, conductor of the symphony for the show.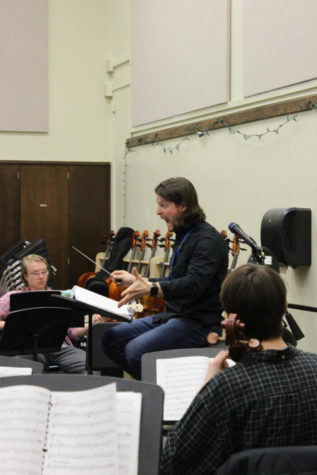 "It is probably the hardest music some of them will ever play and the progress they make from the first rehearsal to the last performance is really inspiring. This all makes it very gratifying for me to conduct the pit."
Despite there being extra work to make the pit's relocation successful, according to the conductor, this was not the main challenge. 
"The main challenge is how the pit is able to communicate with the cast on stage as they are performing. Since the music the pit is playing needs to go along with the actors on stage, there are a few things we are doing," Mr. Krubsack revealed. "First, there is a camera set up on me in the orchestra room that projects to a tv screen in the auditorium. The actors see this screen when they are on stage and are able to take cues from me in real time."