Behind the Curtains: Behind the Scenes with the Crew
May 7, 2022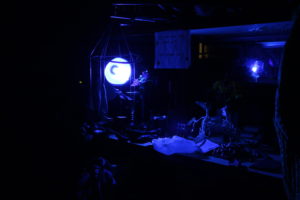 When it comes to a crossbow, plenty of graves, an expansive stair set, and 30 faces to paint completely white, there's no way the show could go on without the amazing crew behind it all. Crews are an essential part of theatre, making it possible for the performance to seem as high budget as it appears. There are sixteen crews who work with great effort to make the show look as high quality as they can. 
The different crews have their respective roles, responsibilities, but also special environments. Paint Crew Head Isabel Waier commented about what she enjoys about the painting atmosphere, "I really like how chill the atmosphere is most of the time. From the start of freshman year, I never felt like I needed to be good enough at painting in order to be worthy of being on paint crew. It was just more about … are you willing to be there and do the work?'"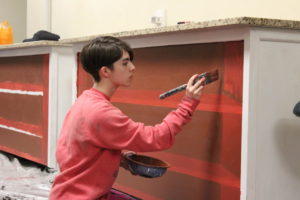 "So a lot of what our job is, is … making what construction makes, look pretty. We also do work on the marquee; so we make a giant poster that goes on the outside wall of the school and occasionally we do get to paint the floor of the stage if we have time," said Waier. "They add life to the set. With The Addams Family, you wouldn't be able to tell … that [a building is] a house … without the paint. You need the colors and the patterns that paint adds, in order to really feel like you're seeing the play for what it is."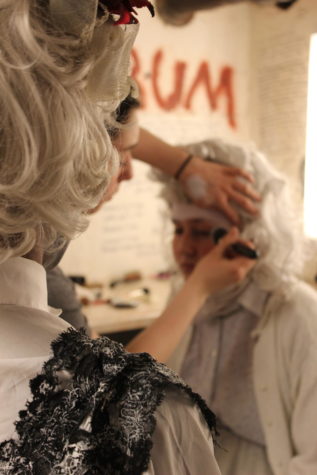 Another group that serves a great purpose in the show is sound. Sound crew makes the thunder strikes possible and keeps the  show alive and moving. It's almost magic, and the crew members can attest to that. "My crew helps to make sure that all sound equipment is working," said Audrey Hardman, a member of sound crew. "That includes the mics on the actors, the pit, and any monitor or speaker backstage or in the house."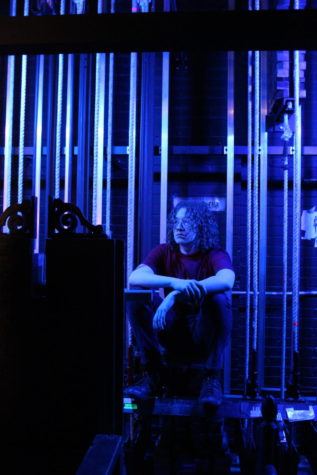 Although sound is often overlooked by most, we would know the difference if there weren't any sound crew behind the show. But what actually happens during the show?
"During the shows there are many different tasks that I can do being a part of the sound crew," Hardman mentions when asked about the tasks behind the scenes. "Most of the time I sit in the booth and script read, or I sit backstage or the pit and help if there are any problems with people's mics or the pit equipment."