All the World's a Stage: Behind the Scenes with the Cast
May 7, 2022
The role of an actor is to be precise, flamboyant, and fun to watch. The best actors and actresses of the theatre are the ones who deliver the important work from behind the curtains to the audience before them. They play the roles they were assigned, memorizing their lines and practicing for hours to get everything right. Dancing and singing at the same time is not as easy as it seems.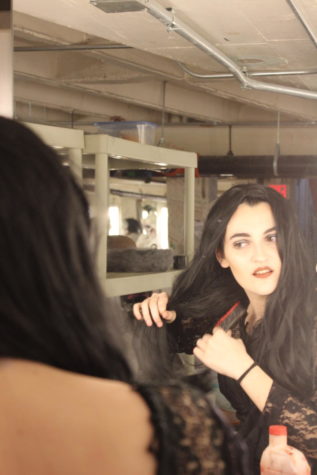 "Break a leg!" is a common theatre phrase that Wednesday Addams would gladly take literally. The character of Wednesday Addams, played by Claire Ranft, was no doubt an acting challenge. It's not everyday that a person carries a crossbow with a deadpan about it. Not to mention, her dark and gothic character is in complete contrast with her love interest, Lucas Beineke.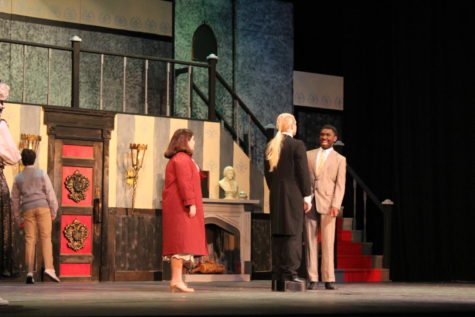 Lucas's character, despite being a very average guy in the musical, also required a lot of acting skill to bring to life. Tosa East junior Gavin Miller did just that, using his experience as a Tosa East Player in previous productions including The 25th Annual Putnam County Spelling Bee and Songs for a New World.
"One of our first rehearsals for a production is a character workshop, where all of the cast will build their character. This might include naming their family, or three of their hobbies, anything that will help you to authentically portray your character on stage," Miller said. "A large part of memorizing is understanding the goal of your character in a given scene, which will help clarify why you're saying what you're saying."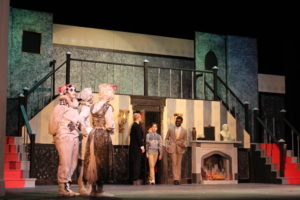 Miller also added, "If any actor ever tells you they're not nervous on stage, they're lying. However, if you can turn those nerves into energy on stage, which can actually improve your dancing and singing, [it's] pretty cool!"
There couldn't have been such a wonderful show were it not for the ensemble. The Addams Family is all about family, living or dead, and the ancestors played a vital role. The ghastly complexion and the unique outfits suggest a diverse backstory with the Addamses. Who knew that Elvis was an Addams? The sheer number of ancestors made choreographing numbers a challenge—but also something everyone enjoyed.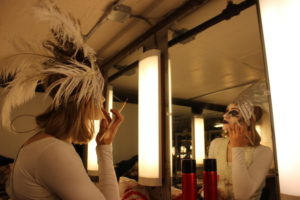 "We are in a bunch of group numbers with pretty much the entire cast," said Jenna Wood, an East freshman and an ancestor in the ensemble. "It's been pretty cool. We have a really good group of people, I've been enjoying it a lot. It's a lot of fun, coordinating with everyone and working with the dances at the same time—it's been fun working with everyone."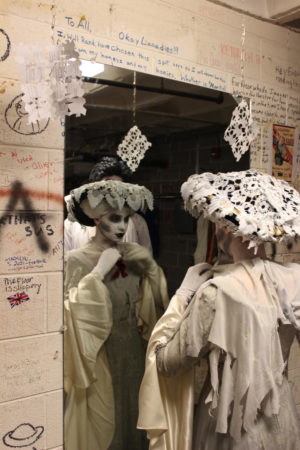 It was also a large task to make everyone look like a ghost.
"[The] costumes [crew] put together all of these white outfits for everyone … all the ancestors have a different way that they die. The character that they come up with goes into their makeup and what they look like."
The actors revealed that the process is fun but also a little crazy. They noted the environment that they work in as well as the effort that goes into it.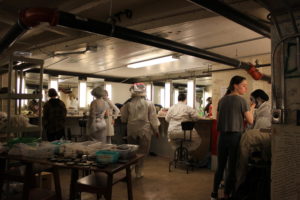 "Everyone is so supportive. No matter what you're doing within theatre, everyone always has your back. It's always chaos everywhere when leading up to opening night, but the process is so much easier with the incredible community that we have," Miller said.